Summer was a Droid double-header for Motorola. The company opted to follow up last year's successful original Droid launch by introducing not one but two sequels: The Droid X, followed by the Droid 2. When I first heard this, I started to believe Motorola was having a numerological crisis, unable to find the value of X or unwilling to give it a number lest the world think it's somehow better than 2.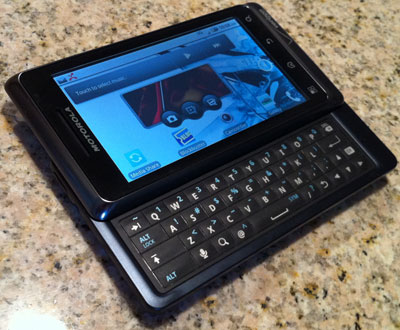 The Verizon Droid 2 by Motorola
The actual goal, it seems, was to split the Droid family into two different lines. The Droid X is a thin, wide, touchscreen-only edition with a nicer camera, perhaps more attractive if you're into recording and viewing videos on your phone and another couple hours of battery life isn't a deal-breaker. The Droid 2 more closely follows the example set by the original Droid, primarily with its overall size and its slide-out physical keypad.
Also, Droid 2 ships with the latest edition of Android: version 2.2, also known as "Froyo." Droid X will be upgradable to that version at a later date (specifically, whenever Motorola and Verizon are good and ready).
Slide Action
Like the Droid X, Droid 2 uses the Motoblur interface, Motorola's own personal configuration of the Android mobile operating system. The icon arrangement and presentation appears odd and kind of slapdash when the phone is first started up. The key lies in customization — if you care to take the time to do it, you can set up each of the seven main screens to show you exactly which application, controls, widgets and information you want to see. It takes a bit of effort, but having the option to put certain frequently used controls front-and-center instead of having to dig through menus to reach them is a definite advantage.
Hardware-wise, Droid X is touchscreen-only, like an iPhone; Droid 2 follows the original Droid with a slide-out keypad. This makes the device a bit thick — it's definitely fatter than the slender Droid X.
The Droid 2's slide action didn't quite strike me as a rock-solid, honed-to-the-last micrometer ode to perfect gadget craftsmanship. There's a tiny bit of give to it when you pinch the front and back together between your fingers, and sliding the keyboard out required slightly too little effort for my liking. Once in a while, I'd accidentally start sliding it out while swiping around on the touchscreen using my left thumb.
Still, its runner action is smooth, it slaps into place nicely, and it stays put solidly when deployed.
The physical keyboard itself is quite good. The raised-bump keys will be a welcome feature for anyone who just doesn't care for the touchscreen keypads found on a lot of new smartphones. The only annoyance I had was that it sometimes felt like the bottom edge of the screen was crowding in on the top row of keys, making it just a little more cumbersome to peck out the letters.
Of course, the Droid 2 is a full touchscreen phone, and it will give you a virtual keyboard in either portrait or landscape mode if the physical keypad isn't deployed. When I used a Droid X, I found the virtual keypad there to be very comfortable in my hands, which are mainly used to using an iPhone. The Droid 2, with a screen smaller than the Droid X's generous 4.3 inches, wasn't as comfortable when it came to portrait-mode typing. Perhaps this is a matter of dimensions: The Droid 2 technically has a larger screen than the iPhone (3.7 inches vs. 3.5), but that measurement is taken diagonally, and the iPhone's screen is nearly a quarter of an inch wider than the Droid 2's.
Like the Droid X, the Droid 2 has a great-looking high-resolution screen. It might not have the DPI count of the iPhone 4, but as far as my eyes are concerned, there's not much of a practical difference.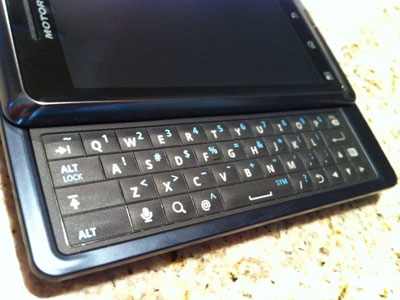 The bottom edge of the Droid 2's screen sometimes feels like it crowds out the top row of keys.
The Droid 2 packs a 5 megapixel camera (vs. the 8 MP found on Droid X) with LED flash that can do photos as well as DVD-quality videos (the Droid X can shoot in a higher resolution: 720p HD).
One place Droid 2 beats X is in battery power. A bigger screen means a bigger power appetite, and Motorola boasts 575 minutes of continuous usage time for Droid 2 vs. 480 for X.
Form, screen, battery and camera: This is pretty much where the main hardware differences between Droid X and Droid 2 end. Both feature the usual mix of WiFi, Bluetooth, accelerometer and GPS. Both sport a haptic feedback system that vibrates the phone a bit when certain touchscreen keys are hit. Both have 8 GB of onboard memory and can take up to 32 GB in removeable memory, though the card included with Droid 2 out of the box is just 8 GB vs. Droid X's 16. Both run on a 1 GHz processor.
A Dash of Flash
As noted, the Droid X will get a taste of Froyo … eventually. Last month I heard rumors of an early September update, but that's come and gone. The latest forecast is something like "any day now."
Android 2.2 brings several subtle upgrades to the table, as well as a few larger ones. There's support for saving apps on the removable memory card, rather than being limited to only saving to the onboard memory. Microsoft Exchange receives better support, and Froyo also boasts USB tethering and WiFi hotspot functionality, though this is something the Droid X can do even while running Android 2.1 (naturally, Droid 2 can become a WiFi hotspot as well).
Much has been made about the inclusion of Flash capabilities in the Web browser found on the Froyo edition of Android. The iPhone's browser has no Flash support; Apple's made it clear that it sees HTML 5 as the future of Web video.
For the time being, though, lots of Web sites rely on Flash to one degree or another — sometimes Flash is vital to see anything at all; other times not having it will merely rob you of the pleasure of seeing a few banner ads. But the inclusion of Flash on Android does mean you get a somewhat fuller Web experience.
However, including Flash doesn't magically make a mobile browsing experience on par with desktop or laptop surfing, and it's not just about the size of the screen.
For one thing, the concept of mouse-over is often lost when you're using a touchscreen, pinch-to-zoom browser. You're either clicking a button or trying to move the screen around; there's no cursor with which to hover over an object.
Also, a lot of Flash-based tools aren't nearly as slick when you're using a big, fat finger rather than a cursor to manipulate the controls (or at least when I'm using a big, fat finger — if yours are lithe and slender, then good for you). Example: Google Finance (the "classic," non-mobile mode). On a Flash-free iPhone, you don't get to use the "ubercool interactive charts." You do get them on Android Froyo, but I had to zoom way in to get a handle on that microscopic little slider bar, and even then it was fumbly and sluggish in response.
Bottom Line
Though Motorola's always presented its Droid collection as a no-nonsense, utilitarian line of phones, some Droids are apparently more gruff and utilitarian than others. Droid 2 stresses fundamentals — better battery life, a physical keyboard for when you can't or don't want to use a virtual one, and a camera that'll get the job done but won't make you pay for HD-quality video if you really can't imagine you'll ever need it.
Both phones are on equal footing as far as price is concerned: US$199 with the usual two-year service contract.
If you're trying to decide between X and 2, the biggest question to ask yourself is how much you like that physical keyboard. It's a decent bit of hardware as phone keyboards go, but when it comes to these two models, getting a keyboard sacrifices thinness, screen size, and a higher-res camera. Then ask yourself about battery life, then perhaps factor in the cost of another larger memory card if the 8 GB card that comes with the Droid 2 doesn't quite cut it for you.
The inclusion of Froyo with Droid 2 does make the phone that much more attractive, but it might not be the best basis for choosing between the two. X will get its Froyo update soon enough. Probably. I admit that's a guess on my part — all I know for sure is that it would be pretty bad form for Verizon and Motorola to keep users waiting much longer.