Uber-industrialist Elon Musk on Monday released the alpha plans for his proposed Hyperloop high-speed travel system between San Francisco and Los Angeles.
The Hyperloop will consist of streamlined capsules riding like hovercraft on an air cushion in a steel tube with solar arrays on its roof to provide power to the system. The tube will be supported every 100 feet by pylons.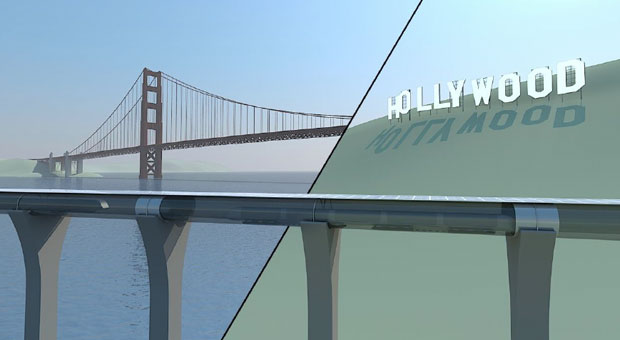 The Hyperloop would transport passengers from San Francisco to Los Angeles in just 35 minutes.
Linear accelerators will be constructed at various points along the tube's length.
Two tubes will be welded side by side to allow travel in both directions.
The Hyperloop will carry 840 passengers an hour.
Travel time will be about 30 minutes, and the total cost of the Hyperloop is projected to be less than US$6 billion.
"I'm not in this just to make money," Musk said during a telephone conference with the press. He's comfortable with the idea of someone else putting together a demonstration of the Hyperloop, but will step in "if someone doesn't do it or go about it the right way."
The idea "actually makes sense," enthused Rob Enderle, principal analyst at the Enderle Group. In addition to being cheaper and less disruptive than the existing high-speed rail proposal, a point Musk also made, it would "put us out there with a technology we could sell to other countries."
The project is technically feasible, Jim McGregor, principal analyst at Tirias Research, told LinuxInsider. However, he is "not so sure" whether it's economically feasible.
Elon Musk's Vision
The Hyperloop will run alongside the current Highway 5, and the track has to be "super-level" across a long distance, Musk stated.
Passenger capsules will hold 28 people, and Musk has outlined an option that will carry three vehicles.
There will be up to 40 capsules in the system at rush hour. Capsules will depart every two minutes, and will be 23 miles apart. They will travel at 760 mph, or 90 percent of the speed of sound, and will slow down closer to the cities. They will maintain a temperature of 68 degrees Fahrenheit.
The Ride
The maximum width of the passenger capsules will be 1.35m, or about 4.4 feet, and the maximum height 1.1 m, or 3.6 feet. They will have either gull-wing or sliding doors on either side, and luggage compartments.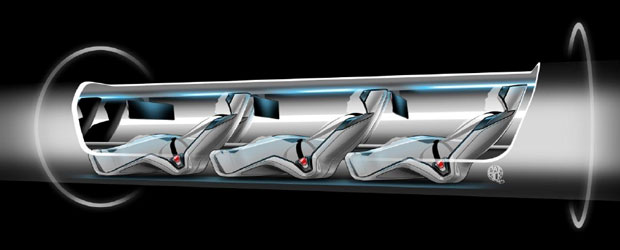 Hyperloop Passenger Capsule
Capsules will have an on-board compressor to compress air bypassed through the capsule. This will prevent a buildup of air mass in the front that would increase the drag. It will also cool and pump some of that air into on-board pressure vessels to supply the air-to-air bearings that will support the capsule's weight while traveling.
Inboard water tanks will be used to cool the air. Water and steam tanks, as well as batteries, will be changed automatically at each stop, and the batteries will be charged at stations.
Propulsion will be provided by an advanced linear motor system, under development, that will accelerate capsules to speeds exceeding 760 mph at a maximum acceleration of 1g for passenger comfort.
Passenger-only capsules will weigh about 33,000 lbs. fully laden, including passengers and luggage. They are projected to cost less than $1.35 million each, making the total cost of 40 capsules about $54 million. Costs will be higher for capsules that will also carry vehicles.
Looking at the Hyperloop Proposal
"The need to stop would be very rare, such as during an earthquake or equipment failure," Enderle told LinuxInsider. In such an instance, it's likely the vehicle might have to park for a few hours to recharge.
"This is a fascinating solution to the problem [of high-speed travel between San Francisco and Los Angeles], but given it is also new and untested, I doubt it will be implemented," Enderle opined.
However, the tube itself is an area of concern for Tirias Research's McGregor. "While you could mitigate some issues, as mentioned in [Musk's proposal], I would still be concerned about potential variations — especially when you have a pod carrying people at supersonic speeds. What if an earthquake, fire or other environmental conditions caused a slight bend in the tube?"
Further, the cost could be "much higher" than projected, McGregor warned.