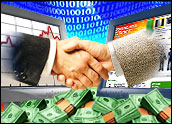 IBM has bought into New Jersey-based startup EnterpriseDB, an open source rival of MySQL and Oracle.
EnterpriseDB closed a US$10 million round of Series C venture capital financing with IBM, as well as Charles River Ventures, Fidelity Ventures and Valhalla Partners, the company said at the Open Source Business Conference in San Francisco.
The funding will go toward fortifying the firm's continued development of its PostgreSQL-based databases and sales efforts, Andy Astor, EnterpriseDB's chief executive officer, told LinuxInsider.
"MySQL has established itself as the most popular database, and here, we have EnterpriseDB with an investment from the largest technology company in the world," Astor said. "It gives EnterpriseDB the backing and endorsement of a great company and, frankly, changes the market into a two-horse race. I actually think it's been that for some time, but now, that view is shared by more people."
An Open Standards Commitment
The move builds on an already-existing partnership between EnterpriseDB and IBM, which includes the recent release of EnterpriseDB Advanced Server 8.2 for Linux on IBM System z mainframes, as well as the availability of EnterpriseDB Advanced Server for AIX on IBM System p servers.
"Global organizations of all sizes rely upon open source technologies to free information from proprietary silos and use it in innovative ways across their businesses, said Inna Kuznetsova, IBM's Linux strategy director. "IBM has a long history of supporting open source initiatives, including Linux, Apache and Eclipse, and this investment is another example of IBM's longstanding commitment to open standards."
EnterpriseDB, a four-year-old company, has raised a total of $37.5 million to this point, it said. The new funds will be used to continue development of the company's award-winning PostgreSQL-based databases.
"It means that the open source database space changes," Astor added.
'A Lot of Promise'
The investment in EnterpriseDB is an indication that IBM sees a need to put more emphasis on the competitive open source database market.
"I think it's a sign that the open source database market is healthy and has a lot of promise," Charles King, principal analyst with Pund-IT, told LinuxInsider.
It's also an effective response to Sun Microsystems' January acquisition of open source database developer MySQL. EnterpriseDB and Sun formerly worked closely together.
Indeed, PostgreSQL is compatible with Oracle's standard-bearing database product. EnterpriseDB prices PostgreSQL below its Oracle rival and markets it as a stronger alternative to MySQL.
Rife With Potential
Forming more ties is a good ploy in a competitive field. "Limiting the use of your product to one vendor or another is like waiting for the possibility of disaster by keeping certain people out of the party," King commented. "When a customer comes to you, you want to give them whatever product they want in their data center. You don't want to tell them that you don't support that product because you don't want them going to the competition."
IBM's support for open source technology is well-documented, and this deal solidifies that backing, he continued. "What IBM has done very effectively since it first announced support of Linux in 1999 is, it's gotten enormous secondary benefit from open source.
"IBM doesn't make a whole lot of money selling Linux [solutions], but they do sell the hardware that Linux runs on and support services to Linux customers. With a relatively minor investment in EnterpriseDB, they've basically gotten [in] on the ground floor for additional business opportunities down the line," King added.
The open source database market is still relatively immature and rife with potential, King concluded. "By partnering with EnterpriseDB, IBM has basically put itself into a position to profit as EnterpriseDB becomes more successful."