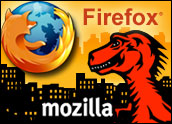 Mozilla on Thursday made it easier for Mac users to browse the Web with Firefox. The open source software developer released a new version of its browser with more Mac support and several security fixes.
The big story with Firefox 1.5.0.2 is that it adds native support for Apple's Mac OS X running on Intel's processors, according to JupiterResearch analyst Joe Wilcox. The security fixes issued are typical, though important, updates common to most browser updates.
The software updates will be automatically delivered to Firefox 1.5 users in the coming days. Those using earlier versions of the popular browser, however, must make manual updates to the software at Mozilla's Web site.
All About Apple
Firefox 1.5.0.2 includes Universal Binary support for Mac OS X which provides native support for Macintosh with Intel Core processors. Firefox supports the enhancements to performance introduced by the new MacIntel chipsets.
Could this cause Apple users to flock to Firefox? Wilcox said it may cause some migration, but most Mac users are still using the older processor. Regardless, however, "the more applications that move over to the MacIntel chipsets the better," he told LinuxInsider.
Wilcox has tested Apple's Rosetta translation technology to run applications intended for non-Intel Mac hardware. His conclusion: the emulation works well, but the experience is much better using the native Universal Binary code.
Making the Transition
Apple faces a significant challenge in making a transition from one processor to another, since the older software is written for the older processor. Apple's translation technology attempts to circumvent that challenge by building compatibility into the operating system to allow the new hardware to run the old software.
"With some applications you notice the emulation more than others. The applications may not be as responsive when you first open them. For the person that bought the Intel-based Mac and is looking for that performance increase, the bigger bang will come from the native code," Wilcox noted.
Stability and Security
Firefox labeled its latest version a "stability and security" release because it addresses critical security problems and various bugs. The update comes on the heels of Microsoft's major update to Internet Explorer on Tuesday.
Specifically, Firefox fixed spoofing vulnerabilities, along with file stealing, space heap overflow and crashes with evident memory corruption issues. Mozilla recommended that all Firefox users upgrade to the latest version.