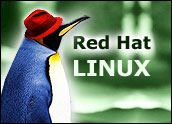 Linux leader Red Hat has been named in a patent infringement lawsuit in Texas in connection with its recently acquired JBoss Hibernate 3.0 technology.
In its complaint, which is provided online by the blogPatently-O, Delaware-basedFireStar Software claims the now Red Hat-owned object/relational persistence and query service product infringes on a patented method of interfacing object-oriented software applications and relational databases.
Seeking Trial
The company alleges that Red Hat's JBoss Hibernate 3.0 product, as well as marketing, distribution and support related to the offering, infringe on FireStar's U.S. patent issued in 2000.
FireStar is claiming damages and a need for injunctive relief, and is seeking a jury trial on its infringement claims.
Red Hat "is very aware of the situation and we are working through the proper legal channels to resolve it," the company said in a statement provided to LinuxInsider.
News of the lawsuit was immediately met with skepticism, with some critics suggesting that a potential prior art claim on the part ofBorland andOracle could conceivably nullify the FireStar patent.
Deeper Pockets
The suit also provoked speculation over its timing, given that the much larger Red Hat, which just reported a profitable quarter, is now the company behind the technology in question.
"Maybe JBoss was small enough that it wasn't cost-effective to assert a patent against JBoss, and now with Red Hat, there's a much bigger market," Townsend and Townsend Partner and software legal expert Phil Albert told LinuxInsider. "It is a much deeper pocket, but it's also potentially a much bigger infringement."
He noted that the FireStar suit is much different from contract claims asserted bySCO over the intellectual property behind Linux — a largely unsuccessful legal strategy.
Still, the response from open source software developers and community supporters will likely be similar to the backlash that hit SCO, Albert said.
"Red Hat is going to find a lot of support from the community," he predicted. "If anything, there will be a piling on of support for Red Hat."