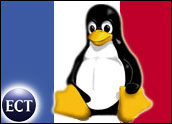 The French parliament this week announced that its 1,000-plus desktops will be running Linux andopen source applications beginning in June 2007, ending the governmental body's reliance on Microsoft Windows.
Although the adoption of Linux and other open source software — as well asopen standards such as the open document format (ODF) — is gaining momentum among European institutions and agencies, it has not lived up to expectations overall.
The climb toMicrosoft's level of desktop dominance will undoubtedly be long and arduous.
Still, "there is more and more evidence that uptake is happening," Open Source and Industry Alliance (OSAIA) Director of Public Policy Will Rodger told LinuxInsider. It's just happening more slowly than expected.
Voila Linux
Neither a precise timeline nor a particular distribution of Linux was announced, but French officials indicated the move would mean a switch from Windows to Linux on about 1,150 workstations by the middle of 2007.
The workstations reportedly will run the Firefox Web browser and OpenOffice.org productivity applications.
The French parliament's switch to Linux shows that the nation's government recognizes that open standards and open source software are central to global competitiveness, Rodger said.
"For possibly the first time in memory, you have a general legislative body ruling on the importance of a technology standard," he said.
Losing Lock-In
The biggest driver behind this institutional adoption of Linux, open source software and open standards is vendor lock-in, according to Rodger.
"Everyone recognizes the problem and that it's bad policy to be locked into one vendor," he said.
At the same time, IT inertia and vendor lock-in remain the key challenges for the further adoption of Linux, Rodger added.
Here and There
Given previous expectations for the use of Linux in governmental agencies and the slower-than-expected uptake, the French Parliament's move is fairly significant, Illuminata Senior Analyst Gordon Haff told LinuxInsider.
"Certainly, the big moves from Windows to Linux in desktops have been few and far between of late," he said.
Replacing Windows as a "fat client desktop" has been more difficult than expected for the pro-Linux contingent, largely because of driver and application support, Haff explained.
While Europe is seeing heavier adoption of open source in general, the French government's move probably does not signal a coming tidal wave of Linux-on-the-desktop adoption.
"That doesn't mean Linux on the desktop is totally dead," Haff said. "It'll happen here and there."