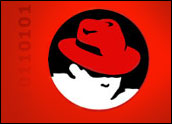 Red Hat is famous for its ability to focus squarely on a market and technology and build success from there, as it did with Linux. However, the company increasingly has diverged from its roots and historical laser focus on the enterprise x86 server market with Red Hat Enterprise Linux.
The overarching theme and identity of Red Hat is still open source software, but the main driver for the company clearly is now cloud computing, which is intertwined with open source.
Red Hat continued its climb into cloud computing with its US$95 million cash-and-stock acquisition of eNovance, a French OpenStack consulting shop that bolsters Red Hat's services and support story. During its FY Q1 2015 earnings call — the same day the eNovance deal was announced — Red Hat CEO Jim Whitehurst said drivers of the deal were the top needs of Red Hat's OpenStack users and potential customers: installation and management, along with consulting on workflows and process.
Red Hat has not focused its business or most of its acquisitions on service and support, but eNovance highlights how critical consulting is to an OpenStack market that is anything but out-of-the-box for users and customers. This is particularly true for large enterprises and service providers that have legacy infrastructure, processes and people.
The deal for eNovance marks a more aggressive effort by Red Hat to expand its presence in Europe, where it has some traction in the enterprise and public sector markets, but not as much as it has had in North America.
All-In on OpenStack
Of course, eNovance isn't the only recent deal for Red Hat. Last month, it acquired open source Ceph storage backer Inktank for $175 million. That deal helped to validate growing interest and use of open source software in enterprise storage, which is one of the few areas of enterprise IT where open source has yet to achieve significant acceptance and penetration.
It also bolstered Red Hat's ascent in enterprise cloud computing and plays a significant role in its strategy on OpenStack, which is helping to fuel community and credibility for Ceph.
Red Hat's 2011 acquisition of Gluster, for $136 million, marked the company's movement into scale-out storage and the cloud, as well as the beginning of its integration and collaboration with OpenStack, which is now among Red Hat's top strategic initiatives.
As evidenced by its recent earnings call, OpenStack represents a small but fast-growing source of revenue for Red Hat. After being positioned against the open source cloud project just a few years ago, it is now all-in on OpenStack.
While it was more about software than services, Red Hat's recent deal for eNovance was very similar to its $104 million purchase of ManageIQ in 2012. That deal helped Red Hat bolster its cloud computing portfolio and better respond to enterprise demand for richer capabilities around cloud monitoring, orchestration, chargeback and automation.
Red Hat's recent acquisition of eNovance may indicate that the acquisition and integration of ManageIQ was efficient and successful, which is consistent with scuttlebutt from some enterprise developers and end users.
Other Red Hat acquisitions that have paved its road to the cloud include Makara cloud application management for $32 million in 2010, KVM hypervisor backer Qumranet for $107 million in 2008, MetaMatrix data management and integration for an estimated $20 million in 2007, and JBoss open source middleware for $350 million in 2006.
All of these acquired technologies and companies have played prominent roles in Red Hat's current cloud offerings, including Cloud Forms IaaS management, OpenShift PaaS, Red Hat Enterprise Virtualization and JBoss SOA.
Possible Prospects
So, where might Red Hat be looking next, as it seeks to grow its cloud computing presence, capabilities and community? As has been the case for some time, cloud computing and some adjacent technology trends, such as Big Data, DevOps and storage, are likely to drive Red Hat's next M&A move.
A prominent target might be Docker, whose open source containerization technology is supported and featured prominently in RHEL 7. Red Hat is among Docker's largest partners, and Whitehurst identified containerization as a "Linux-only" phenomenon and innovation that would help differentiate Linux and Red Hat in the market.
DevOps vendors — such as configuration and provisioning automation players CF Engine, Chef and Puppet Labs — continue to represent potential targets for Red Hat, though Puppet Labs recently raised $40 million in funding from investors including VCs and technology partners Cisco, Google and VMware.
Other potential targets for Red Hat include vendors backing open source databases and NoSQL databases, Cassandra and Hadoop Big Data technologies, and systems and cloud management software. Red Hat also might acquire a vendor for more depth in OpenStack, though it likely would be centered on compute and storage rather than networking, which is still evolving in terms of software-defined networking and open source, according to the company.
Although Red Hat benefits from its open source software community and development, this aspect of the firm somewhat limits its acquisition targets. Companies and technologies that are acquired must be open source or will be transitioned to open source. This may serve to positively discipline Red Hat's M&A strategy and progress, but it does limit its potential prospects.