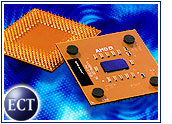 Fujitsu today announced a new version of the company's fifth-generation Sparc64 processor. The new Fujitsu Sparc64 V is fabricated using 90-nanometer process technology, a first for Unix-based servers, and operates at 1.89 GHz. According to Fujitsu, the enhancements offer a significant performance boost that will average out to a 35 percent speed improvement over previous generations.
"The improvements to the Sparc64 V processor for PrimePower servers allow Fujitsu to continue delivering high reliability and groundbreaking performance within mission-critical environments," said Richard McCormack, vice president of product and solutions marketing at Fujitsu. "Its arrival demonstrates our consistent technology leadership in the open systems marketplace and moves us even closer to the realization of solutions for the Fujitsu and Sun Microsystems advance product line collaboration."
According to Fujitsu, the 1.89 GHz Sparc64 V processor is establishing world records for performance on the SPECjbb 2000 (Standard Performance Evaluation Corporation Java Business Benchmark 2000) benchmark in 8-way, 16-way and 32-way configurations. In SPECjbb 2000 testing, the new processor offered performance improvements of 35 to 42 percent over its predecessor in respective configurations.
In addition to increased clock speed and 90-nanometer fabrication technology, the new Sparc64 V processor will incorporate 3 MB of on-chip Level 2 cache. The new processor also can be mixed and matched with previous generations of the Sparc64 processor in the same system for the PrimePower 900, 1500 and 2500 models.
PrimePower servers with the new Sparc64 V processor will be available in September.