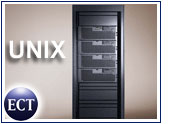 This week, IBM introduced the new eServer p5 systems, a line of Unix and Linux servers that use Power 5 microprocessors and Micro-Partitioning, an IBM Virtualization Engine technology.
According to IBM, the new eServer p5 systems are the result of a large-scale, three-year research and development effort at IBM that extends beyond traditional Unix servers with mainframe-inspired features that are designed to help businesses thrive.
IBM claims that even while using as few as one fourth the number of processors, eServer p5 systems can outperform HP servers in the Transaction Processing Performance Council's TPC-C benchmark test.
According to the company, the new eServer p5 systems have shattered world records for certain kinds of transaction processing, Java processing and other business applications, in some cases beating HP's and Sun's performances by two and three times.
Breakthrough Tools
The new eServer p5 systems are the first Unix systems designed to let clients run multiple virtual servers or Micro-Partitions on a single microprocessor, letting it do the work traditionally done by many. This capability lets businesses balance processor partitions in less than one second.
The new Power 5 microprocessor that powers these new features is built of 276 million transistors and is manufactured with IBM's 0.13-micron copper wiring and Silicon-on-Insulator technologies.
Power 5 integrates not only multiple microprocessor cores in silicon, but elements of memory and task management that have long been outside the chip.
IBM's Micro-Partitioning technologies, which are part of the Virtualization Engine's, allow each processor to be subdivided into as many as 10 virtual servers. This allows eServer p5 servers to consolidate multiple independent workloads.
AIX, Linux and Others
The new IBM eServer p5 systems can simultaneously support AIX 5L 5.2, the new AIX 5L 5.3, or Linux on Power distributions in separate dynamic partitions, all on the same system.
The initial wave of eServer p5 systems will consist of three distinctive servers. The new IBM eServer p5-520 system has a starting price of US$12,920, the IBM eServer p5-550 has a starting price of $22,100, and the IBM eServer p5-570 has a starting price of $25,928.