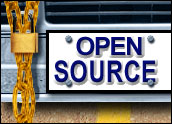 A papoose named Geronimo is venturing out of the teepee this week, and the Apache Software Foundation says it might be ready for its rite of passage later this summer. The organization's effort to develop an open-source version of Java 2 Enterprise Edition (J2EE) became a full-fledged project this week and is expected to produce a certified product later this summer.
The free product, which is being developed entirely within Apache, would be a major step toward development of a full, open-source "product line" that might attract large enterprises drawn to low-cost offerings.
"Enterprise middleware is an important segment of the open-source software community, and we are happy that the ASF is able to participate so significantly through the Apache Geronimo project," said Geir Magnusson Jr., the project's chairperson. "Moving to official project status validates the momentum that the project has already attained, and this will only increase as we progress towards our first certified release."
The announcement is important symbolically but is not expected to alter radically the present pace of development. "It's a milestone, but in terms of day-to-day operations, it probably won't change the way we work very much," Magnusson told LinuxInsider.
Strong, Diverse Community
Geronimo brings together Apache Tomcat and Apache Axis from the ASF, OpenEJB and ActiveMQ from Codehaus, JOTM and ASM from ObjectWeb, CGLIB and MX4J from SourceForge, and Jetty from Mortbay.
"By combining the architectural experience of the Geronimo team with the expertise of our partner communities, we have been able to build a great J2EE server in a short amount of time," said Dain Sundstrom, a Geronimo cofounder and community member.
"By working closely with other open-source projects outside of the ASF, we are able to grow the Geronimo community by tens of participants at a time, and that really is building a strong, diverse community," said Sundstrom.
An Alternative to Sun's J2EE
Some observers see the announcement as potentially interesting to other vendors and enterprise developers, many of whom have found it difficult to work with Sun in the development of Java itself, said Dan Kusnetzky, vice president of research for system software at IDC. "Licenses are restrictive and often costly, and it's often difficult for companies to take part in developing Java technology [that] drove HP to develop its own embedded version of Java for its devices," he explained.
While Kusnetzky said he generally thinks standards-based development that draws from many sources is a good thing, and Apache has been highly successful in its server development, he cautions that Geronimo's success will depend on meeting the needs of a variety of companies doing Java-based development.
"Just because an open-source product is available doesn't mean it will be embraced," he said, pointing to Borland's open-source database project, Phoenix, as a counterexample. "Success will have to be judged by how many Java-centric companies — vendors and users — support it."
Also, he added, large enterprises that use Java want to know they can get support on demand when something breaks, so any open-source project needs to develop partnerships or channels to support its products to win over this audience. "They want one throat to choke when something goes wrong," quipped Kusnetzky. "They don't want to have to track down the right open-source developer and try to get it fixed with the clock ticking when millions of dollars might be at stake."
What's Next?
High on the priority list of new projects, Magnusson told LinuxInsider, are those that expand on the technology currently under development, such as "other services that can be brought into container objects, and things that let you control and manipulate containers."
Magnusson also pointed to other open-source work, such as BEA's Project Beehive, as the next possible projects to leave the incubator and ultimately become released products. Beehive focuses on a runtime environment and an application framework for service-oriented architectures and is based on BEA WebLogic [Kirk L. Kroeker, "BEA Plans Open-Source Project To Promote Java," LinuxInsider, May 19, 2004].
Further database projects compatible with Tigres also might leave the incubator soon, he said.