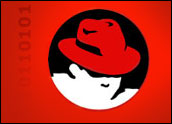 Red Hat has put its investors through a roller-coaster ride this summer, and the ride just took a major drop in recent days, as bad news hit the markets. The company announced that it would be restating its results due to new accounting policies, and also told analysts that the SEC had launched an inquiry into the company for unspecified reasons.
Red Hat stock dropped from a price share of more than US$20 Tuesday to barely more than $15 at the close of trading on Wednesday. Analysts seem to agree that the company has good long-term prospects, if it can just quit tripping over its own feet in the short run. However, analysts differ on the reasons for the plunge.
How Important Is Accounting?
Analysts vary in how important the accounting changes are in reversing the company's immediate outlook, which had been positive following the company's last quarterly results.
"I think there's considerable confusion about the restatement of results," said Brooks Gray of Technology Business Research, headquartered in Hampton, New Hampshire. In particular, said Gray, he's "disturbed" by the company's downplaying the impact upon its recent quarterly financial outlook.
"It [the restatement] had a very serious impact on the [net margin] quarterly results," said Gray. "There's a potential of a possible readjustment of up to 70 basis points for the quarter ending in May 2004, and when Wall Street looks at that, it's an erosion of profitability."
Indeed, Red Hat's strong quarterly and yearly performance had quelled much of the confusion and doubt surrounding the abrupt resignation of the company's CFO just days before the quarterly earnings call. (See "Red Hat's Numbers Called Impressive," LinuxInsider, June 18, 2004)
Gray said that the new numbers change yearly results even more. "In May, 2003, they reported a [net margin of] 5.58 percent. Now it's adjusted downward to a high of 4.07 percent to 3.56 percent at the low end. That makes a big difference to Wall Street," he said.
Gray also questioned Red Hat's reporting of a range of readjusted results, and said that the company has not explained satisfactorily the need for these ranges. "Do they not know the exact numbers? Are they waiting for a decision from the SEC?" he asked, adding that Red Hat really needs to explain why there isn't just one set of numbers.
Credibility Gap?
Analyst Katherine Egbert of Jefferies and Company disagreed with Gray on the accounting changes, characterizing the restatement itself as "fairly immaterial." But when taken in the context of recent events, she agreed that it raises concerns about the believability of the company's financial story.
"Last June, they said that there would be no accounting issues, and now, a month later, they're saying that there are. That creates a credibility gap," said Egbert.
"There's also some concern about Red Hat's announcement to analysts that the SEC had 'made some comments' about its 10K," she said. Taken together with the restatement and CFO Kevin Thompson's resignation, the news is a concern," said Egbert.
The restatement is even more puzzling because the company is planning to realize revenues from its software subscriptions daily rather than monthly, as it has done for the past five years. Monthly reporting has been the standard in the industry, and the move is "unusual," said Egbert.
"I've not seen other firms use that kind of accounting," she said, but added that because so much of Red Hat's revenue is subscription-based, such a technique might make sense, possibly putting Red Hat on the forefront of what might eventually become a trend.
Long-Term Outlook Generally Good
But both Egbert and Gray agreed on one thing: The company's outlook is generally bright if it can get past its recent short-term stumbles. "I don't think Red Hat is in trouble long-term," says Egbert. "The business is actually quite healthy."
Gray agreed. "They still had a great [May 2004] quarter," he said. "I believe that Red Hat has an incredible opportunity to promote itself and to increase its share of the server market, eroding the share of traditional Unix and Microsoft platforms," he added. "These are clearly CFO issues," he said.