Google released Android 2.3, or Gingerbread, on Monday — a new version of its open source mobile platform. Gingerbread made its debut on the Samsung Nexus S smartphone.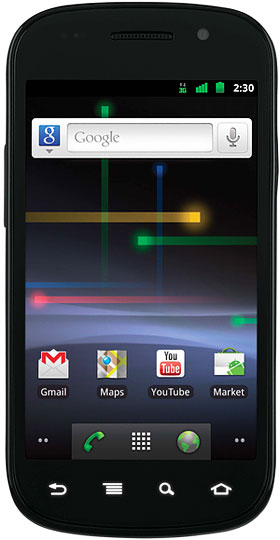 Nexus S
The new platform comes with enhancements such as a more refined touchscreen keyboard for faster typing and greater accuracy. There are a number of performance improvements, many targeted at gaming. However, the big steps forward for Android 2.3 are yet to come, as developers get their hands on the platform.
"Android 2.3 will be open sourced in the coming weeks, as with all software updates on the Android platform," Google spokesperson Randall Sarafa told LinuxInsider. "This means developers, operators and handset makers will have access to this version of the software."
Blend of Nexus One and Galaxy S
The Nexus S — co-developed between Google and Samsung to ensure tight integration of hardware and software — is the first device to ship with the Gingerbread platform. An unlocked version of the phone will be sold at Best Buy for US$529 without subsidy; T-Mobile will be selling it on contract for $199.
The touchscreen-only device has a 4-inch contour display and a 1 Ghz Hummingbird processor, 16 GB of internal storage, and a 1500 mAH battery rated for 6.7 hours of talk time. The phone also has a front-facing camera — an emerging feature in both phones and tablets that supports Skype calls.
Does Android Gain an Edge Over iOS?
Many of the immediate advances with Gingerbread favor the consumer, which means more direct competition with Apple's iOS.
"It seems to be another incremental advance, part of the continued evolution of the platform," Josh Martin, senior analyst for Strategy Analytics, told LinuxInsider. "For consumers, they will be able to more easily access the content they want. This is a big step for the consumer, especially as it gets developed."
Advances in the Android platform may not be sufficient to draw iPhone fans to a new platform, though.
"People are in one camp or the other between Android and the iPhone. I'm not sure there is anything other than earth-shattering changes that would alter that," said Martin. "The next big stage with the iPhone will be whether they move to another carrier. That would make a bigger change than advances in its platform."
NFC Capabilities
One of the big features in Gingerbread is the support for hardware that supports Near Field Communications (NFC). This low-power wireless technology enables quick data transactions simply by passing the phone near an NFC terminal. This is the fundamental technology behind the "wallet phone" concept. AT&T, Verizon Wireless and T-Mobile have formed a joint venture to support NFC.
"NFC is good for both the consumer and enterprise markets," Chris Hazelton, research director for mobile and wireless at the 451 Group, told LinuxInsider.
"For consumers, there needs to be an Android that supports NFC so developers will program for that feature," he said. "The NFC can be as simple as swiping an ad or as complicated as working with a point-of-sale at a vendor. Banks are deploying these point-of-sale devices in anticipation of NFC in phones."
Internet Telephony
Another major advance is the support for Internet telephony over SIP, which allows users to make voice calls to SIP addresses over WiFi.
"The SIP capability is important if you have unified communications within your enterprise," said Hazelton. "Android will support those. This still has to be developed, but there is better for support for now."