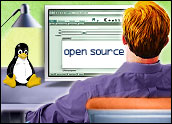 The much-anticipated first draft of GNU General Public License Version 3 will be released on Jan. 16 at the Massachusetts Institute of Technology in Cambridge, Mass. However, the draft may raise more questions than answers.
In fact, the debate over the content and exact wording of the license has already begun. It's a strategic debate, with GPL claiming the title of "most widely used license in the open-source world." About two-thirds of all open-source licenses fall under the GPL.
Richard Stallman, the license's original author, and Eben Moglen, the general counsel for the Free Software Foundation (FSF), authored the latest rendition.
The public debate over GPL version 3.0 is expected to include comments from 150,000 people around the world. The FSF will release a revised version later this year or early next year. The FSF said March 2007 is the latest possible release date.
The First Draft
Patent issues will be a key area of focus in the rewrite. Open-source licenses address patents in a number of ways. Currently, the GPL says if a developer can't grant the rights under a patent, then the third party cannot use the open-source software. This is atechnical issue that needs to be cleared up in version 3.0.
The first draft is expected to contain a patent retaliation clause. That clause would prevent a company from redistributing a product if it were accused of infringing on a free software patent. It could also contain a clause that would penalize companies for using copy-restricting technologies.
These potential clauses are mere speculation at this point, but one thing is clear: patent issues surrounding the GPL need to be cleared up as commercial software vendors embrace open-source technologies.
A World of Issues
Other proposed changes to the GPL include resolving incompatibilities with other licenses, and accommodating Web services. There is also the possibility of dealing with wikis in GPL version 3.0.
Incompatibilities have led companies to develop their own open-source licenses. Sun Microsystems with its Common Development and Distribution License is one recent example.
We may also see clarification on static versus dynamic linking, an area over which there has been considerable uncertainty.
For example, under the current version of the GPL, if you use an open-source program with a proprietary program, which is quite common, then a question arises as to whether that open-source product has been incorporated into the proprietary product.
Unlikely Clarifications
Heather J. Meeker, intellectual property attorney and partner in the Silicon Valley office of Greenberg Traurig LLP, told LinuxInsider that many hoped that the language of the GPL would be clarified, but this seems unlikely.
"The one most widely anticipated change is a new treatment of what constitutes 'distribution' — and in particular whether that includes making software or services available online, without physical distribution of copies," Meeker said.
"Obviously, this will be a significant issue for Web-based businesses that run their systems on Linux, but currently do not release their changes or improvements to Linux to the community."