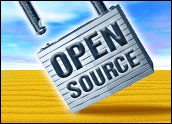 The Free Software Foundation (FSF) released what many expected to be a controversial first draft of the GNU General Public License version 3.0 on Monday at the Massachusetts Institute of Technology (MIT) in Cambridge.
Now it looks as though the draft may not actually be as controversial as some had speculated. In fact, it appears that the debate may even run smoothly enough to allow the new version to make its debut before the FSF's original estimated "latest possible release date" of March 2007.
Richard Stallman, the GPL's original author, and FSF General Counsel Eben Moglen scribed the latest rendition of what has become the most popular open-source license in the world. About 150,000 people are expected to provide their opinions on it in coming months.
All About Patents
Stallman participated in a public forum at MIT on Tuesday where he made it clear that provisions to protect users from patent litigation will remain in the new version, an element many feared might be removed or significantly altered in version three of the 15-year-old license.
"Software patents threaten every free software project, just as they threaten proprietary software and custom software. Any program can be destroyed or crippled by a software patent belonging to someone who has no other connection to the program," the new document states.
The new draft also includes a patent-retaliation clause that would prevent a company from redistributing a product if it were accused of infringing on free-software patents.
GPL version 3.0 contains a clause that would penalize companies for using copy-restricting technologies. Considering the use of GPL software on devices with digital rights manangement (DRM) restrictions may lead to questions of the validity of GPL3 licenses — if they provide for exceptions to the Digital Millennium Copyright Act.
No Surprises Here
It is not surprising that some of the most significant changes in the new version of the GPL relate to patent law, according to Heather J. Meeker, intellectual property attorney and shareholder in the Silicon Valley office of Greenberg Traurig.
"Many members of the free-software movement have taken strong public positions against software patents. Mr. Stallman has long been clear about his views on this issue. The question of whether software patents are a serious threat to free software remains controversial," Meeker told LinuxInsider.
Software patents discourage innovation, say some critics, but proponents disagree. Many in the business community take the view that the quality of software patents needs to be improved — a "mend it, don't end it" approach, Meeker said.
A Step in the Right Direction
Legally speaking, dealing with patents more explicitly in this version of the GPL is a step in the right direction, because — regardless of one's view — clarity in the license serves every constituency, Meeker noted.
Prior versions of the license did not contain an explicit patent license grant or explicit terms about reversion of rights in the event of patent suits — and such terms are common in other open-source software licenses, such as the Mozilla Public License (MPL), the Common Public License (CPL) and the Common Development and Distribution License (CDDL).
"The free software community and the software industry both benefit when they better understand the patent terms of the license, and can make reasoned decisions about using GPL code or applying GPL code to their projects," Meeker explained.
The public is invited to review the GPLv3 draft and post their comments on the Free Software Foundation's Web site at gplv3.fsf.org/draft.