Smartphone manufacturing giant HTC on Tuesday unveiled three new smartphones and announced upgrades to its Sense user interface at the Mobile World Congress in Barcelona.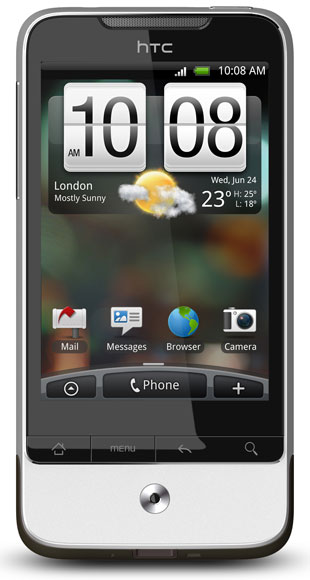 HTC Legend
Two of the smartphones — the Legend and the Desire — run the Sense UI on top of Android. The third, the HD mini, runs Sense on top of Windows Mobile 6.5.
The devices will be released in Asia and Europe.
Features Common to the Android Smartphones
Both the Legend and the Desire support Bluetooth 2.1. For file transfer, they use FTP and Object Push Profile (OPP). OPP is a Bluetooth technology that lets users send objects such as pictures, virtual business cards and details of appointments to others.
For Internet access, the two offer up to 7.2 Mbps download speed and up to 2 Mbps upload speed using 3G. They also offer GPRS and EDGE Internet access, and they have WiFi capability. Internet tethering is available through a computer's USB port.
Sensors on both include a digital compass and proximity and an ambient light sensors.
Both smartphones have a 3.5mm stereo audio jack and a standard micro-USB connector.
They have multimedia capabilities and come with HTC widgets. Through the Sense interface, both offer integration with Facebook and other social networking sites.
The Legend and the Desire both have integrated optical joysticks for navigation. Think of this joystick as something like the trackpad on a laptop.
Like the trackpad on laptops, the optical joystick may set a new standard for navigation on smartphones. "This is a trend that is starting to appear, and the biggest reason is that the mechanical trackballs tend to get dirty and stop working," Alan Nogee, a principal analyst at In-Stat, told LinuxInsider. "An optical device is less bothered by this."
Letting Loose the Legend
There's been some buzz surrounding the HTC Legend for some time due to its unusual design — it's machined from a single block of aluminum.
The Legend measures 4.41 by 2.22 by 0.45 inches and weighs 4.44 ounces with the battery. It has a 3.2-inch AMOLED capacitive touchscreen that lets users pinch to zoom in or out. The screen has an HGVA resolution of 320 x 480 pixels.
AMOLED, or active-matrix organic light-emitting diode, is a technology used in several mobile devices. It enables low-power, inexpensive, large screens that are ultra-thin and ultra-bright.
The Legend has a 600 MHz processor; 512 MB of ROM; 384 MB of RAM; and a microSD memory card slot that supports cards of up to 32 GB capacity. It runs Android 2.1, a.k.a. "Eclair," overlaid with the HTC Sense UI.
The device runs on both WCDMA and GSM networks; it has a talk time of up to 490 minutes and standby time of up to 560 hours. It has a 5 MP color camera with autofocus and flash, widescreen photo capture and geotagging.
Going With the Desire
The Desire has a 3.7-inch AMOLED screen and is Adobe Flash 10.1-ready. It runs on a 1 GHz Qualcomm Snapdragon processor.
The Desire measures 4.7 by 2.36 by 0.47 inches and weighs 4.76 ounces with battery. It has 512 MB of ROM and 576 MB of RAM. It comes with an SD 2.0-compatible microSD card slot that supports cards of up to 32 GB capacity.
The Desire runs HTC Sense over Android 2.1. It supports WSDMA and GSM. Talk time is up to 400 minutes and standby time up to 360 hours. It offers Internet access over 3G as well as GPRS and Edge. Like the Legend, it allows tethering through a computer's USB port.
Also like the Legend, the Desire has a 5 MP color camera with auto focus and flash, widescreen photo capture and geotagging. In addition to these features, the Desire's camera has face detection capability.
Sense on Steroids
HTC has upgraded its Sense UI with a new application and widget called "HTC Friend Stream." This aggregates a user's social communications, including those on Facebook, Twitter and Flickr, into one organized flow of updates.
Friend Stream may make an important differentiator for HTC, In-Stat's Nogee pointed out. "Phone makers realize that they need to make these tweaks or their devices will blend into the sea of phones on the market," he said. "You have so many phones that all start to look and act alike after a while."
The new version of Sense includes a new newsreader application and a new, seven-screen thumbnail view called "Leap."
Looking to the Old World
Both the Legend and Desire are currently slated to be released in Europe and Asia, but not in the United States.
That could be partly because they will stand out in those markets. "Many phones sold in those regions are Nokias running Symbian, and while operators have embraced other operating systems, Android and Microsoft phones are a bit harder to find, unlike in the U.S.," Nogee explained.
The Legend, especially, might do well in Asia and Europe. "Of all the markets in the world, the European market is very big on conspicuous consumption, followed closely by the Asia-Pacific market," Ramon Llamas, a senior research analyst at IDC, told LinuxInsider.
"A smartphone made from a single block of aluminum asks users to look at it because it's a sweet and sexy device," Llamas said. "It's showing the world that HTC has the aesthetics down pat."