Taiwan-based HTC, a fast-rising star in the smartphone manufacturing industry, has unveiled its latest model, the Hero, its third offering based on the Android operating system.
The Hero comes with a new user interface called "Sense" that makes use the device almost intuitive.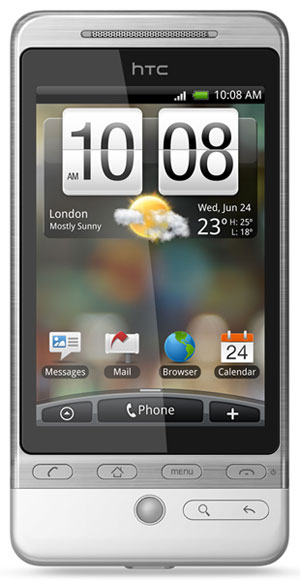 HTC Hero
The Hero is the first Android smartphone with Adobe Flash support, according to HTC.
The Hero's Features
HTC's focus on form and function, evident in its other smartphones, such as the TouchPro2 and the Diamond, continues with the Hero.
This device has beveled edges and a protective coating for its screen that prevents smudging by users' fingers.
Heroes that come in white have a Teflon coating — said to be an industry first — to improve their feel and durability.
The Hero has a 3.2 inch HVGA display and is optimized for Web, multimedia and other content.
It comes with a built-in GPS; digital compass; gravity sensor; 3.5-mm stereo headset jack; and a 5-megapixel autofocus camera. Its memory can be expanded using microSD cards.
MicroSD is a removable flash memory card format. MicroSD cards measure 15 mm x 11 mm x 1 mm, which makes them roughly the size of a fingernail, or about one-quarter the size of the SD memory cards used in cellular phones and digital cameras.
The Hero includes a dedicated search button that provides natural contextual search.
The Hero's Tech Specs
Built around a Qualcomm MSM7200 A, 528 MHz processor, the Hero has 512 MB of ROM and 288 MB of RAM.
It measures 4.41 x 2.21 x 0.7 inches, and weighs 4.76 ounces with its battery.
The device's TFT-LCD touch-sensitive screen has a resolution of 320 x 480 pixels.
It runs on HSPA / WCDMA networks as well as quad-band GSM / GPRS / EDGE networks.
The Hero supports Bluetooth 2.0 with Enhanced Data Rate (Enhanced Data Rate is an optional feature according to published Bluetooth 2.0 specs) and WiFi.
Audio formats supported include MP3, MIDI and Windows Media Audio 9. Video formats supported include MPEG-4 and Windows Media Video 9.
The Lowdown on HTC
Founded in 1997, HTC, which began as an OEM handset manufacturer focusing on the Windows Mobile platform, launched its own brand less than two years ago.
It has established partnerships with major mobile carriers in Europe, the U.S. and Asia. These include Orange, T-Mobile, Vodafone, Cingular, Verizon, Sprint and NTT DoCoMo.
The company released its first Android smartphone, the HTC Dream, in Singapore and Australia in February.
The HTC Magic, the company's second Android phone, has been distributed exclusively in the UK, France, Germany and Spain by Vodafone UK since the spring.
In April, HTC and Taiwanese wireless carrier Chunghwa Telecom unveiled a version of the Magic that is the world's first traditional-Chinese-language Android smartphone.
Scoping Out Sense
Sense, the new HTC user interface delivered with the Hero, is based on three principles: Make it Mine, Stay Close and Discover the Unexpected.
Make it Mine focuses on letting users personalize their Hero smartphone in various ways. They can add widgets that push content to the surface, or set up the device for faster access to email and calendars. Sense has a new profile feature called "Scenes" that lets users create different content profiles around specific functions or times in their lives.
Stay Close is all about communication.
Like the Palm Pre's webOS, Sense integrates emails, phone calls, text messages, Facebook status updates, Flickr photos and other communications into a single view.
Discover the Unexpected apparently consists of innovative functions such as letting users silence a ringing phone by turning it over and "Perspectives," a new way of viewing content such as email, photos, music and Twitter.
"HTC wants to take whoever's operating system — Google's or Microsoft's — and put their own spin on it," Ramon Llamas, a senior analyst at IDC, told LinuxInsider.
"That's an excellent idea, and other handset vendors are also picking up on it because they need to have some way to differentiate themselves from the competition."
Getting Flash-y
Adobe and HTC jointly announced that the Hero is the first Android phone to ship with support for Adobe Flash Platform technology.
The Hero offers video playback using Flash. Adobe demonstrated Web sites with Flash on the Hero on its Web site.
HTC also announced its participation in the Open Screen Project, which has 25 other industry members collaborating to bring Flash Player 10 and full Web browsing to the next generation of mobile computing devices and platforms.
Flash Lite 2.1 for Windows Mobile 5.0 is available on Adobe's Web site.
Last November, Adobe announced collaboration with chipmaker ARM, whose chips power most of the mobile phone devices in the market, to optimize and enable Adobe Flash Player 10 and Adobe AIR. The technology stems from the Open Screen Project and will hit the market later this year.
"The Hero is the first Android handset with real Flash capabilities," Julien Blin, CEO and principal analyst at JBB Research, told LinuxInsider.