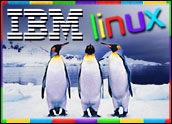 Following last month's release of Lotus Notes collaboration software for Linux, IBM this week started supporting the open source platform on desktop and server computers with its enterprise instant messaging solution Lotus Sametime.
Big Blue said the collaboration messaging solution would support integration with Linux desktop PCs and servers, broadening the appeal of enterprise-class instant messaging, which is not as widely used as public IM services from AOL, Google and Yahoo.
"This is something we know people have been looking for as they are moving to Linux," said Adam Gartenberg, real-time and collaboration products offering manager at IBM. Many organizations have stuck with a Windows server solely to support Sametime, he told LinuxInsider.
All-Linux Advance
While more and more enterprise IT shops are embracing Linux, particularly on the server, there is also a trend toward more real-time collaboration, according to Gartenberg. The company is hoping to increase customer choice by supporting Sametime for Windows and Linux — and, soon, Mac as well.
Now, organizations can avoid license costs typical of proprietary platforms and still benefit from an enterprise-class IM solution, IBM claims.
"With IBM Lotus Notes for Linux and now Lotus Sametime support for Linux, all of an organization's key collaborative business applications can run in a 100 percent Linux environment," said IBM Vice President of Lotus Products Ken Bisconti.
IM in Business
The firm hopes Linux support in Sametime will appeal to small and medium-sized businesses (SMBs). It also hopes the move will eliminate the hurdles that have prevented greater adoption of enterprise-level IM up to now.
While only 10 percent of enterprises report deployment of enterprise-strength IM solutions such as Lotus Sametime or Microsoft's Live Communications Server (LCS), the number of enterprise users of public IM services is upward of 75 percent, Basex CEO and Chief Analyst Jonathan Spira told LinuxInsider.
"That means that — for a variety of reasons — a lot of users are not using an enterprise-strength instant messaging solution," he said. "Lotus Sametime for Linux may change that."
The Lotus Sametime offering would likely appeal to budget-constrained SMBs, which are increasingly running Linux machines, said Spira.
"There is certainly an appeal to open technology or Linux for a lot of small and medium businesses," he said, referring primarily to servers. "That's one area where Linux shines."
Improving the Pitch
Indeed, many SMBs are interested in leveraging Linux, but lack of support for Sametime on Linux has been a stumbling block, according to Out of the Box Solutions Senior Consultant Timothy Massey, whose company provides IT consulting services to SMBs.
"[IBM's Sametime for Linux offering] makes pitching Linux in an organization running Domino [servers] more competitive and more supported," Massey told LinuxInsider.
IBM's Gartenberg contended that the Sametime for Linux solution may encourage enterprise adoption, because it means firms will have the ability to run a common solution across different platforms.
"It helps adoption in the enterprise because a lot of companies run environments where everybody is not using the same type of PC," he said.
IBM's Lotus for Linux move also reflects the changing face of the larger enterprise IT environment, said Basex's Spira.
"Given that more large companies than small companies use Sametime, it's a recognition that the world is not made up of just Windows users," he said. "You have to address a diverse group of operating systems and platforms."
As companies better understand the control that comes with heavier-duty IM solutions such as Sametime, adoption will continue to increase, he concluded.