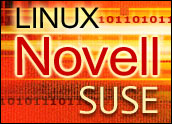 IBM and Novell partnered this week to offer customers a single subscription option for servers running SuSE Linux Enterprise Server 9 in the IBM BladeCenter chassis.
The companies said the new chassis subscription model will help customers maintain control over the cost of computing by potentially reducing subscription administration requirements and the need for separate subscriptions on each blade server.
IBM said, depending on the blade configuration, customers could see reductions in their subscription costs of up to US$17,000. This new pricing model starts at $2,792 per annual Novell upgrade protection subscription and will be available in October 2005.
"From the inception of IBM's BladeCenter offering, IBM has worked with industry partners to deliver the industry's most open, flexible blade server platform to meet the dynamic business needs of our customers," said Doug Balog, vice president and business line executive, IBM BladeCenter. "With this new BladeCenter chassis subscription, we are enabling customers to simply and flexibly manage their IT infrastructure at potentially reduced overall cost."
Flexibility On Demand
The companies said creating a simple-to-administer and flexible environment will allow users to configure, re-provision and expand on demand within an IBM BladeCenter chassis with up to 14 blade servers without having to purchase additional subscriptions to SuSE Linux Enterprise Server.
Customers can mix-and-match any number of blade servers with Intel, AMD and Power-based CPUs in a single chassis with this single subscription. The companies said the subscription model will help customers quickly and efficiently implement scalable, multi-tier, and heterogeneous Linux workloads.
Ron Hovsepian, Novell executive vice president and president, global field operations, said Novell's work with IBM aligns with the current industry trend to simplify data centers and overall infrastructure management.
"Unlike competitive offerings which simply bundle existing server subscriptions, the new Novell and IBM subscription model offers advantages for heterogeneous environments and virtualization needs allowing customers to customize their data centers while potentially lowering the system's total cost of ownership," Hovsepian said.
The Bigger Trend
Illuminata Analyst Jonathan Eunice told LinuxInsider that the bigger trend is the software licensing issue, especially as the industry moves toward virtualization.
"This as one skirmish in a epic war. This is a multi-year war we are talking about as people try to come to grips with the model of more dense, scale-out computing," Eunice said. "Our historical licensing practice has been much more based on monolithic servers and simpler datacenters."
The IBM-Novell deal, he said, will help enterprises tackle the challenge of software inventory. Much like IBM's agreement with VMware in March, the Novell partnership simplifies the software licensing infrastructure so that it doesn't slow down customers who want to go to a blade style deployment.
"This doesn't solve every single licensing problem in the known world, but it's pretty interesting because it solves an important one, which is base platform charges," Eunice said. "This is a way of giving enterprises a fully supported Linux distribution without the complexity of licensing charges."