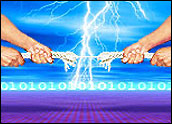 Just about a week after Microsoft threw down the gauntlet in the Open Source Development Labs' (OSDL) courtyard, IBM yesterday threw it back at Microsoft.
Two IBM-sponsored research reports arguing that Linux is less expensive both to buy and to operate than Windows and Unix come on the heels of Microsoft's invitation to the OSDL to co-sponsor a study to determine which operating system best suits the needs of today's enterprise.
The recent tit-for-tat appears to be the beginning of yet another round of Total Cost of Ownership (TCO) debates around open-source and proprietary software, according to analysts.
Interabor Solutions principal analyst Dana Gardner told LinuxInsider the fact that there are dueling studies bodes well for corporate technology consumers. "Enterprises are in a position to bargain for the rates and services they want and the customer service they demand," he said.
Less Expensive?
IBM sponsored the Robert Frances Group study entitled, "TCO For Application Servers: Comparing Linux With Windows and Solaris" to compare the cost of acquiring, implementing, and running an application server on Linux, Solaris and Windows.
The results: Linux is 40 percent less expensive than comparable x86-based Windows server and 54 percent less than a comparable Sparc-based Solaris server. Specifically, Linux's costs came in at US$40,149 compared with $67,559 for Windows and $86,478 for Solaris.
Yesterday, Chad Robinson, principal analyst with the Robert Francis Group, told attendants of an IBM roundtable that the biggest cost disparity comes from the licensing fees factor. But that's not where the differences end, he added.
Cost of ownership factors such as the crossover nature of Unix and Linux skills, lower ongoing support and management costs, and improvements in how customers manage their Linux systems also bode well for the open-source contender.
Changing Tides
However, the study reveals that Linux may not be able to depend on its lack of a licensing fee as a major advantage too much longer, as Microsoft and Solaris plan to reduce their prices. And since Linux users are beginning to purchase support, management tools and other features that go along with proprietary operating systems, Linux may also lose ground with those factors.
Meanwhile, however, another IBM-sponsored study by research firm Pund-IT reported second-stage benefits for companies deploying Linux. In its study entitled "Beyond TCO — The Unanticipated Second Stage Benefits of Linux," Pund-IT cites second-stage benefits such as the ability to consolidate server workloads, reduce IT hardware upgrade costs and attract new IT workers who are interested in open source.
"One of the things that has crept into the Microsoft discussion is usually Total Cost of Ownership. Microsoft likes to look at the long-term costs," Gardner said. "They also like to look at the costs inherent in migrating from Microsoft to Linux, which is going to obviously be a complication."
Fuzzy Outcome
Still, analysts said there are too many variables to flat out declare a winner in the operating system debate. Regional labor costs, hardware choice and many other factors influence the TCO for any given company.
"Ten years ago when Microsoft came out with NT the worry was that there would be little choice at this point in time," Gardner said. "But technology buyers have a great deal of choice. We still have multiple flavors of Unix. We have Sun with a mixture of open and commercial Unix, and we've got Linux."