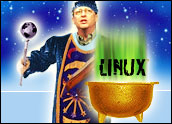 The distaste and distrust of the Microsoft-Novell partnership announced last week among some free and open source software supporters has grown to include allegations the deal may violate the GNU General Public License (GPL), which governs Novell's Suse Linux operating system.
The free and open source software (FOSS) community's largest legal figure, Columbia Law School Professor and Software Freedom Law Center Director Eben Moglen, has highlighted how the use of patent licensing from Microsoft may violate terms of the GPL and therefore nullify Novell's right to distribute the software.
However, while the forthcoming patent terms in the next version of the GPL — version 3 is currently under consideration in draft form — might hinder such an arrangement, Novell's offer of the patent license appears to comply with GPLv2, Townsend and Townsend Partner Phil Albert told LinuxInsider.
"This is actually quite clever on a number of people's parts," Albert said. "They have created a per-copy version of Linux."
GPL Compliance Questioned
Moglen made the case that Novell may give up its right to distribute Suse Linux, covered under the GPL license, if the company limits in any way the subsequent distribution of the GPL software by users.
Novell, which stands to gain nearly US$350 million through payments and Suse Linux coupons Microsoft will distribute under the terms of the deal, countered by indicating the covenant not to sue is given directly to customers, thereby putting the deal "outside the scope of the GPL," according to a Novell FAQ.
"Our agreement with Microsoft is focused on our customers, and does not include a patent license or covenant not to sue from Microsoft to Novell (or, for that matter, from Novell to Microsoft)," Novell said on its site. "Novell's customers receive a covenant not to sue directly from Microsoft. We have not agreed with Microsoft to any condition that would contradict the conditions of the GPL and we are in full compliance."
In response to continued skepticism over the deal's compliance with both the spirit and the letter of the GPL, Novell reportedly made the details of its Microsoft arrangement available to Moglen, who has yet to report his findings following an audit.
Per-Copy Paradigm
The deal between Microsoft and Novell effectively attaches per-copy licensing to Linux, explained Albert — whose firm focuses on software licensing and patent issues, and advises open source software projects.
The legal expert indicated it is unlikely Microsoft will lash out at other Linux distributions not covered the way Novell's Suse Linux is. Instead, he said Redmond was looking to "preserve the paradigm.
"And that paradigm is, you have per-copy licensing," Albert said, referring also to Microsoft's historic strategy of "embracing, extending and overwhelming."
"They have found a way to overlay per-copy licensing onto a Linux distribution," Albert noted, pointing out the contradiction with the GPL policy of unlimited copies.
It remains to be seen whether the model will gain any traction in the market, but Albert indicated that a lack of threat from Microsoft may appeal to enterprise IT shops.
"It's of limited benefit, but it's a pretty good benefit because it's from Microsoft," he added.
While the Novell-Microsoft model may be compliant with the GPLv2, it would not necessarily be compliant with GPLv3, which may prohibit such an arrangement, Albert concluded.
Nuclear Not Likely
Some industry observers have viewed the Microsoft-Novell partnership as the beginnings of a Redmond assault on Linux and open source based on software patents, also known as "the nuclear option" for Microsoft.
If Microsoft was to file patent infringement claims against non-Novell Linux distributions, developers or users, it would represent an exertion of Microsoft's nuclear option, Illuminata Senior Analyst Gordon Haff told LinuxInsider.
"It's also fair to say that a prerequisite to that would have to be some specific claims about specific patents actually being violated," he said, adding no such specifics have yet emerged.
Despite some doubts about user demand for the deal with Microsoft, customers of both Microsoft and Novell do want more interoperability, and may very well get it with the Windows-Linux partnership, Haff claimed.
"In general, vendors are more open to working with interoperability than they were in the past," he noted.
Haff also downplayed the potential impact of GPLv3, indicating that regardless of the language and provisions covering software patents, there is little that can be done about existing, valid, enforceable patents.