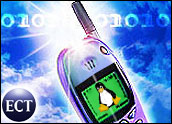 Sparks flew at the GSMA mobile telephony conference in Barcelona, Spain, as members of the LiMo and Android consortiums demonstrated their products and announced new developments.
LiMo, a consortium of 32 major firms, including mobile phone companies, unveiled 18 commercial handsets and several prototypes at the show.
Meanwhile, several third parties demonstrated prototype handsets running Android. They are ARM, Texas Instruments and Qualcomm.
LiMo handsets
Vendors showing off commercial handsets for LiMo included Motorola, NEC and Panasonic; and companies offering prototype and reference LiMo handsets announced included LG Electronics, Aplix and Purple Labs.
Competing Tooth and Claw
Google recently unveiled its software development kit (SDK), while LiMo plans to do so later this year.
Meanwhile, Google is offering a total of US$10 million in awards for great mobile applications built on the Android platform.
Response has not been as good as expected, and on Jan. 28, Google developer advocate Quang Nguyen announced that the submission deadline was extended to April 14.
The Key Differences
The differences between the platforms extend to the way the two organizations are set up.
Google is the leader of the Open Handset Alliance (OHA), the 34-member consortium behind Android, and is clearly driving it, while LiMo consists of a group of vendors.
Another difference is the platform itself: LiMo members are collaborating to build its operating system, but OHA members were presented with Android as a completed operating system.
Wind River Systems, whose technology LiMo selected as the development foundation for its members, is also a member of the OHA, and says the two have distinct but complementary roles.
While LiMo is focused on reducing fragmentation and enabling standardization in the mobile handset stack, the Open Handset Alliance is geared toward creating a comprehensive solution to enable open software, open devices and an open mobile ecosystem, a company spokesperson said.
Compatibility: Just a Myth?
Whether devices and operating systems from LiMo and the OHA will be able to interoperate is still not clear.
"Both of these platforms are Linux derivatives, but when you get into the Linux market, there's a lot of supposed rules and a lot of ways out of them," Gartner analyst Ken Dulaney told LinuxInsider.
"While they say they're fully compatible with each other, I don't believe they are," he added.
Open Source a Misnomer?
Both Android and the LiMo operating systems will be open source, but that will not mean anything, Dulaney said. "They can each use pieces of the other's environment, but the question is what gets stamped as their environment, and that is the look and feel of the interface and the core applications it ships with."
While LiMo is using Azingo Mobile, a comprehensive suite of open mobile software and services designed to help companies deliver Web 2.0 applications, music video, graphics and other features to mobile phones, Android is using Google.
"Azingo versus Google is why I believe these two platforms are competitive," Dulaney said. "The open source developers always have a way out of any discussion; they may say you can run LiMo applications on Google — you could, but you would have to adapt the look and feel to Android," he explained.
Sunnyvale, Ca.-based Azingo unveiled Azingo Mobile at the GSMA conference in Barcelona.
Pre-Existing Standards
Still, there are pre-existing standards that both parties may have to comply with.
The Linux Phone Standards (LiPS) Forum and the Open Mobile Alliance are working together to standardize next-generation mobile services.
LiPS delivers specifications and standards for services and user applications on Linux-based telephony platforms, and OMA develops open specifications for service interoperability independent of underlying software platforms and network access technologies.
Last December, LiPS released the LiPS 1.0 specification; future releases will include a range of APIs (application programming interfaces) to foster the deployment of value-added services and applications.
Fragmentation of the Market
There are fears that the rapid growth of mobile Linux will see the market fragment.
While the OHA and LiMo are the current market leaders, Sun has JavaFX Mobile technology, which it describes as "a complete, pre-integrated software system for advanced mobile devices" and Palm has a closed Linux-based mobile system of its own.
"There is a real danger of fragmentation of the Linux mobile market because of mobile convergence," Stephen Jones, the OMA's director of communications, told LinuxInsider.
"Organizations like the OMA are working really hard to make sure this doesn't happen," he added.
Industry Pressure May Help
That fragmentation may be prevented by sheer industry pressure.
Several members of LiMo are also members of OHA, or are not willing to adopt exclusionary policies.
ARM, for example, is a LiMo member, but demonstrated an Android phone because its technology is in the majority of handsets, and it wanted to show that it could work with any operating system.
ARM is one of at least three LiMo members that also belong to LiPS; the others are Orange and MontaVista Software, which offers the MontaVista Mobilinux operating system.
"Many of the companies that are members of LiMo, LiPS and OHA are also MontaVista customers or partners," Jim Ready, MontaVista's chief technology and founder told LinuxInsider.
Meanwhile, Wind River Systems, whose technology LiMo selected as the development foundation for its members, also provides Palm the Linux platform its smartphones run on, and, as a member of the OHA, will optimize the Android stack for chipmakers, the company said.
"Both organizations will be crucial in driving forward mobile Linux standardization and Wind River is excited to be working with both," the spokesperson said.
So will there be a war? That's doubtful; it's more likely that two major Linux mobile phone operating systems will coexist, in the same way the various smartphone operating systems offered by different vendors coexist.