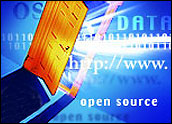 Linspire said yesterday that it would give away free copies of its Linux desktop operating system until Sept. 6. Linspire Five-O was launched in March and retails for US$49.95.
The company said it decided to give away the software because a package called Freespire has caused confusion in the marketplace. Freespire is comprised of various open-source components taken from the freely available source repository of Linspire.
Andrew Betts, founder of Freespire, said on his Web page that somehow his project got submitted to distrowatch.com as a bona-fide Linux distribution and has led some to believe that Linspire is free.
"I had heard from Linspire that their support department was getting calls and e-mails from users who thought Freespire was their product," Betts wrote in his post. "As much as I tried to put disclaimers in to the contrary, some still were confused to this point. I'd even seen reviews for my project that said Linspire was the creator."
Clever Marketing Gambit
Betts has decided to change the name of his project — the temporary code name is "squiggle" — but Linspire decided to take advantage of the market confusion and make its product free for a limited time.
IDC analyst Dan Kusnetzky told LinuxInsider that Linspire's free offer is a clever gambit to take advantage of a market opportunity.
"Linspire's business model is to provide a very low cost, a very basic Linux operating system," Kusnetzky said. "A lot of the options that are pre-installed on other people's Linux distribution are available on Linspire through a paid download. Linspire's model is not all that different from AOL, where they would give someone a disc containing the software, but then there was a monthly charge to use AOL."
Ongoing Confusion
This type of confusion is not new to Linspire. The company changed its name from Lindows to Linspire a year ago after a $20 million legal settlement with Microsoft. The software giant claimed the fledgling company had infringed on its Windows trademark.
Apparently the free offer is being taken quite seriously. Linspire reports its servers are overwhelmed with requests for the software. Users are asked to be patient as it may take a few days before they can download the operating system.
The company said a new install of the operating system typically takes under 10 minutes. Once installed, Linspire Five-0's new "total system update" feature provides update notifications for both the operating system and all installed software. Users may then update manually or choose to have CNR Technology install updates automatically anytime they are available.
Try and Buy
Linspire Five-0 debuted in March after more than a year in the making and with more than 1,200 improvements. The version has enhancements to every core application. Highlights include a completely revised graphic interface, improved laptop and hardware support, and significant Internet optimization.
"Linspire hopes users will evaluate their software and decide that they like to use it," Kusnetzky said. "Once they decide they like to use it, they will be paying Linspire for options from time to time and probably from support as well. It's an interesting way to take advantage of the market confusion."