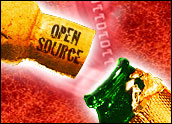 Former Red Hat and Cygnus Solutions executives Kim Knuttila and Eric Troan announced yesterday that they had formed Specifix, an open-source company producing Linux solutions.
The new company brings together other executives and experts from the Linux and GNU open-source development tools communities.
Its primary focus right now is Conary, a technology for building, deploying and managing a single Linux code base across an unlimited number of configurations and hardware platforms.
Management Offices
The Specifix management team has deep experience in Linux, GNU tools and open-source development. Knuttila, the company's CEO, has just left Red Hat, where he was the VP of Engineering Services. While there, he managed the former Cygnus business unit, which delivered open-source and embedded Linux solutions.
Previously, Knutilla was VP of engineering with Cygnus Solutions when it was acquired by Red Hat in 1999. He had joined the company in 1995 after leaving IBM, where he was a key contributor in the C/C++ tools development group.
In a statement, Knutilla noted that he was excited about the opportunity to execute a dream shared by him and Troan, which is to deliver open-source solutions tailored to a company's specific needs.
Troan, who will act as Specifix's Executive VP, led development at Red Hat as Chief Developer and VP of Product Engineering. In this capacity, he was responsible for a number of high-profile projects, including the RPM packaging system, porting Linux to the Alpha architecture, and the Red Hat install code. Most recently, he had moved into the role of Director of Product Marketing.
Meeting a Need
In an interview with LinuxInsider, Troan said that the company occupies a unique place in the Linux arena.
He noted that customers of Red Hat and Novell are given a set of binaries, but do not get source code. "If you want to touch the code, then your support model breaks," he said. Other companies that do allow for source-code manipulation are in the business of delivering customized products.
Specifix, Troan stated, was somewhere in the middle. It is an area where many enterprise Linux users have been left stranded in the past, he said.
"Some people took Red Hat 7.2, for example, and made changes. But nobody will support that, and you have no way of taking their changes and moving forward. Those people were orphaned."
First in Line
The first product from Specifix, Conary, lets users modify Linux source code, and then track and merge the changes with the company's Linux reference implementation to build tailored distributions.
Troan noted that this is a need that is rising as more custom applications are being built. He said, "From what we've seen, the number of people interested in customization is growing all the time. We want to give them exactly the level of customization they want, along with the ability to track changes effectively."
Beagle Research founder Denis Pombriant told LinuxInsider that customization is a phenomenon across all sectors of enterprises, from CRM applications to Linux distributions. And the trend is only going to get larger, he predicts.
"Customizability is a major issue in companies," he said. "It's one of the major reasons that companies might hesitate going with hosted solutions, because they want the control that customization gives them."
Forward Momentum
Troan emphasized that Specifix will focus on several key markets, including embedded device makers, internal IT organizations, and custom hardware developers. He added that Specifix customers will already be running customized versions of Linux, rather than looking to migrate to open source.
"We're not going after the enterprise customers that are running Oracle," he said. "The customers we're looking at need very specific things, and we intend to provide them with the solutions they need."
The company already has an industry partner in Rackable Systems, which will work with Specifix to build Linux solutions for high-performance systems on both IA32 and X86 64-bit platforms.
Tom Barton, CEO of Rackable Systems, told LinuxInsider that 80 percent of his company's customers are choosing Linux, and nearly all of them are concerned about licensing issues. Barton believes that Red Hat and SuSE are making it difficult to license Linux in a cost-effective way.
"We're actively encouraging Specifix," he said, "because we believe that they'll come up with a licensing model that's more user-friendly for customers."