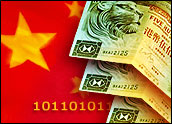 With Linux implementation in full swing in Europe, many analysts are now turning their attention toward growth in Asia, one of the largest markets yet to be dominated by a single vendor.
Andrew Chetham, an analyst in Gartner's Hong Kong office, told LinuxInsider that the market in China is especially hungry for technology. Despite government crackdowns on games and other online content, the flow of hardware and software into the country is still steaming ahead.
Many believe that given the nonproprietary nature of Linux, it will become an enormous hit in China.
In a recent statement, Oracle's Singapore-based Executive Vice President Derek Williams noted that nearly one-third of the company's software sold in China now runs on Linux. He called the trend to Linux use "an unstoppable wave."
Make Way for Linux
Oracle has said that China is the company's fastest-expanding market. The firm noted that over the next few years, it might add between 200 to 600 employees to its operations in the region.
The company is eager to see if greater use of Linux will give it an edge over other companies.
Williams has noted that in every quarter, Linux use grows. He cites thelack of legacy systems issues, which means that generations of clientserver technology have been passed over, giving the company an opportunity to employ "the most modern system" immediately.
Oracle's partner in China is Red Flag, a company that develops and promotes Linux-based operating systems and applications. The firm has had a batch of successes since its creation in 2000, garnering awards and government contracts. As well as partnering with Oracle, the company also announced a strategic alliance with Hewlett Packard last year.
Beyond Microsoft
Every major company is trying to crack the Chinese market, Chetham said."Anything that seems to be working in China becomes popular," he noted."The result is that as a company you have to be quite strong, and large,in order to survive and show a profit."
One company that is betting on using its strength and size in the country is Microsoft, the biggest threat to widespread Linux implementation. But Linux has been finding an increasingly solid position against the Redmond, Washington, giant.
China has repeatedly stated that it wants to develop an open-source operating system to replace Windows and has made anti-Microsoft moves often in the last few years.
In 2002, when Microsoft failed to win a major contract from the Beijingmunicipal government, Gartner blamed poor negotiation tactics, thegovernment's support for local vendors, and a troubled relationship withthe Chinese government.
Since then, Microsoft has been more focused on obtaining a piece of themarket, and Bill Gates has visited the country as part of that effort.
Time Will Tell
Still, Linux faces more challenges to mass adoption in China than simplyfelling Microsoft. Although it has support from the government,some observers are concerned that Linux's business model is not mature.
It is a situation felt globally, Yankee Group analyst Laura DiDiotold LinuxInsider. "Linux is immature, and there aremany people that are waiting for it to grow up," she noted. "It's nothappening as quickly as companies would like, but it should comesomewhere in the next two to six years."
In a recent statement, Huang Yong, senior vice president of CCID Consulting Co., an information technology market research house under the Chinese Ministry of Information Industry, noted that the lack of a sustainable business model is the main obstacle for Linux in China.
"[Linux] is still far from changing the fate of the Chinese softwareindustry," Yong said.
But that does not mean it does not have a chance to make a major impacton the country's industry in the future. According to CCID, the Linuxoperating system is expected to grow by 47 percent in the next fiveyears, compared to 16 percent estimated growth for Microsoft Windowssystems.