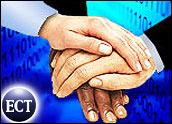 Fourteen Linux vendors have united behind the Linux Standard Base 3.1 — the first version of the LSB to include support for portable Linux desktop applications — according to theFree Standards Group, a not-for-profit organization dedicated to developing and promoting open source software standards, and the LSB workgroup.
The Release of LSB 3.1 "enables further uniformity and standardization across applications and distributions," said Reza Rooholamini, director of enterprise solutions engineering at Dell.
It "allows quicker deployment of Linux solutions with higher levels of quality," Rooholamini added.
Speeding Linux Adoption
For the Linux desktop, the new version is "a big step forward," according to Waldo Bastian, a senior software architect at freedesktop.org.
A top priority for HP is to "do what's necessary to inspire confidence in the community's key stakeholders — from enterprise customers to software developers and everyone in between," said Stephen M. Geary, director of research and development, Open Source and Linux Organization, HP. The company intends to push open source adoption "from the desktop to the data center" through the right partnerships and deals, he added.
"Open technologies like the Linux Standard Base make a strong contribution to accelerating the widespread adoption of Linux into new markets," said Dan Frye, vice president, Linux and Open Technology, IBM. "[Tuesday's] announcement demonstrates the strong commitment the open source community is making to standardize application runtime and install time so Linux on the desktop will become a more attractive platform for ISVs and customers seeking freedom from relying upon a sole proprietary operating system provider."
Protects Against Fragmentation
Also voicing their support for the standard are Linspire, Lymeware, Mandriva, Novell, RealNetworks, Red Flag, Red Hat, Turbolinux, Ubuntu and Xandros.
"Standards like LSB are essential if ISVs are to target the Linux desktop," said Markus Rex, CTO of Open Platform Solutions for Novell. "The desktop market is extremely strategic," he added, saying Novell will continue to invest in desktop innovation.
"The standard ensures Linux does not fragment and provides a great benefit to application developers," said Koichi Yano, CEO & President of Turbolinux.
"LSB-compliance is very important for Ubuntu," said Mark Shuttleworth, Ubuntu founder and chief developer. "We believe that Linux offers the world freedom of choice, freedom to innovate and freedom to localize. The Linux Standard Base is a crucial enabler of those freedoms, creating confidence in the standardization of the core platform while still preserving the ability of the platform to evolve and improve."