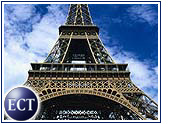 The French Ministry of Equipment will be migrating to Linux, replacing 1,500 office and infrastructure Microsoft Windows NT servers with Mandrakelinux Corporate servers. Mandrakesoft, a top European Linux player, also was chosen for deployment, training and support for the Linux strategy.
Mandrakesoft noted that the Linux distributions based on its corporate servers were developed specifically for the ministry.
In a statement, the company's CEO, Francois Banchilhon, said: "We are delighted to see Mandrakesoft's work in terms of server products and services crystallize in such a large project." He added that the ministry's decision demonstrates that the company is now at a level at which it can handle enterprise-scale requirements.
"This project is our first achievement among several similar new ones," he also noted.
Moving Microsoft Out
The ministry has approximately 100,000 agents located throughout France in several services, including central administration, local administration, technical services and navigation services.
With 160 remote locations, the ministry's infrastructure is composed of more than 60,000 workstations and 2,000 Microsoft Windows servers. Mandrakesoft noted that these servers were nearing the end of their lifecycle.
The Linux migration project began in November 2003, and is expected to continue through the end of 2005. The company notes that the extended time period will ensure a progressive deployment.
Gael Duval, a Mandrakesoft spokesperson, told LinuxInsider that the ministry deal is a pivotal one, both for the company and for the European Linux movement overall. "It's important because it's an excellent deal and it offers us much advertising," he said.
"It's also important for us because it gives us much credibility, which is important to get other, similar, agreement more easily," he added.
Duval noted that the company has other deals in the works with government agencies. Beyond that, there is also growing interest from the corporate community.
European Vacation, Linux Style
Some analysts have noted that this latest Linux announcement is further evidence that European agencies, as well as companies, are taking open-source systems seriously as an alternative to proprietary software.
"There's a real movement in Europe toward looking at Microsoft as a monopoly," Yankee Group analyst Laura DiDio told LinuxInsider. She added that the recent EU actions against Microsoft, coupled with the rise of Linux, have blended to create an environment very friendly to open-source options.
The EU's wrangle with Microsoft resulted in a March 24th ruling that ordered Microsoft to change its business practices and pay a fine of US$612 million. Microsoft, as expected, appealed the ruling and the two entities are still duking it out.
The effect of the ruling, as well as several moves by IBM that place Linux in Germany and Norway, have sparked a high degree of interest in open source. "Linux is big," said Duval.
Upgrade Frenzy Ahead?
Another factor in Linux decisions in Europe and the U.S. might be the upgrade cycle. As Mandrakesoft noted, the ministry had come close to the end of server life with its Microsoft servers. Many other companies and government agencies worldwide are facing the same situation.
DiDio noted that the recent economic downturn has shaken the tech industry and changed buying patterns. Upgrades that normally would have happened every three years were delayed. But such improvements can not be put off forever.
"People have been trying to make things last as long as possible," she said. "So, we're coming to the point where companies have to do major upgrades all at once, rather than micro-upgrades, as they would have in the past."
And, DiDio added, when those upgrades are up for review, Linux implementation is not as quickly dismissed as it may have been in the past. As that happens, the result will be worth watching.
"I think it will be interesting to see what happens when there's large-scale Linux use," she said. "We might see people making the move back to proprietary systems, or it could be that Linux applications will become proprietary themselves."