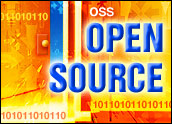 It used to be that only hard-core film buffs carried video recording equipment on vacations. Unless your job required working with film, film editing software was not on most computer users' must-have list of tools. Maybe that is why until recently, few really useful film editing apps existed for the Linux platform.
But today's Linux users are more savvy and more demanding. Mobile phones typically come with built-in filming capabilities. So more opportunity exists for editing and repackaging the film we shoot. Three solid Linux film editing apps make your film preparations easy. Avidemux, OpenShot video editor and PiTiVi have many common features and are all built around ease of use.
These three video editing apps work well with most video and audio formats. Their user interfaces take both the guesswork and trial-and-error episodes out of the film-editing process.
None of them has an advanced toolset that qualifies for professional use. But I've used all three to complete various film-editing tasks and found that they all were capable of getting the job done without much mumbling and bumbling on my part.
AVI Mastery
Avidemux works well for simple cutting, filtering and encoding tasks. I pushed these features to the limit a few times without regrets.
It comes in two versions: GTK and QT. I found the GTK version was more friendly with the two Linux distros I run on my assortment of desktop and laptop computers.
If you work across platforms, as I usually do, you will appreciate being able to use the same editing tool as you move from platform to platform. Avidemux works on Linux, BSD, Mac OS X and Microsoft Windows under the GNU GPL license.
Format Favorites
It supports many file types, including AVI, DVD compatible MPEG files, MP4 and ASF, using a variety of codecs. Tasks can be automated using projects, job queue and powerful scripting capabilities.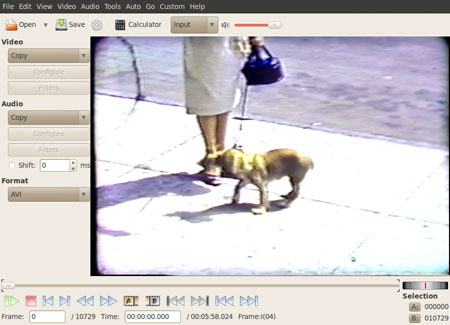 Avidemux
Another big plus with Avidemux is its range of codecs. They support video and audio file formats such as AVI, DVD, MPEG files, MP3 and MP4, ASF, MKV, FLV, AAC, and AC-3. Also in the mix are M-JPEG, MPEG, DivX, Xvid, huffyuv and WMA.
Part of its ease of use comes from its ability to treat sound and video components separately. This is known as "decomposing." Another factor contributing to its easiness is a strong scripting system provided by the Spidermonkey Javascript engine that automates tasks.
Look and Feel
The interface has a clean design. A large viewing area is dedicating to displaying the video frames. For more professional tasks, however, I would prefer having more preview functionality.
It is easy to select separate video and audio formats through separate drop-down menus. Similarly, an output format menu provides ample choices. This is a convenient feature. It lets you save the entire re-encoded film as one complete project.
Other options are accessible through traditional menu and tool rows across the top of the app window. The usual playback controls line up along the bottom edge of the window.
Edit a Shot
The OpenShot Video Editor is a non-linear video tool for Linux. If you do not have to work in multiple platforms, it might be a better choice over Avidemux.
OpenShot
OpenShot makes it simple to combine multiple video clips, audio clips and images into a single project that can output into many common video formats. The common formats include AVI, MP4 and M4V. Depending on your system's installed media libraries, you can have a much larger range of output formats.
But I found that accomplishing these editing tasks was a bit more cumbersome with this application. Part of that fault lies in the confusing interface. Until I got used to it, finding the tools I needed was a bit of a chore.
Less-Appealing View
The GUI (graphical user interface) has three components. They are not very intuitive.
The first component is the tray area at the bottom of the screen. A slider is present for zooming in and out. Six tools buttons are above the tracks section. These let you add additional tracks, place markers, rearrange frames, as well as trim, resize or combine clips.
The preview window is the second GUI component. Its viewing space is smaller, making the zooming controls less effective. Seven playback buttons line up under the viewing window.
Three tabs in the left section of the app window make the third GUI component. The project tab shows the list of media you are using in the project, such as clips, video and audio tracks. The transitions tab gives access to more than 30 film effects. The effects tab shows a similar list of some 30 video effects and overlays.
Got Timelines?
Two potentially useful features in OpenShot are its support for multiple timelines and image sequencing. Both of these tools are used for more sophisticated film editing.
Using multiple timelines is much like working with layers in graphic editors such as Gimp Image Editor. See my review here. Adding and removing timelines is not very complicated once you figure out where to find the commands in the menu system.
Image sequencing is handled by importing images in a particular filename pattern or exporting a video project as a series of images. OpenShot then takes a snapshot of each video frame and saves it as PNG file. This is a cumbersome approach, but it works.
PiTiVi Productivity
PiTiVi is a native GTK+ movie editor that has lots of features tucked away just waiting for you to find them. The interface looks overly simplified. But do not discount that as a sign that anything's lacking. The features are there. You just have to work at it to find them.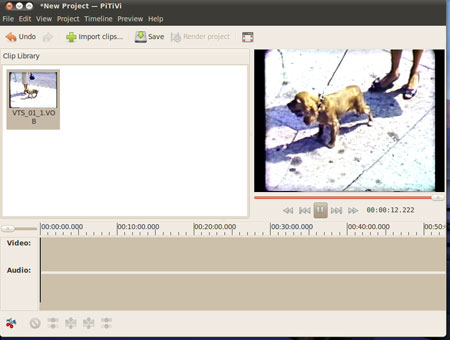 PiTiVi
This app has much to offer both novices and experienced film-editing fans. It comes with a bit more of a learning curve than the other two video apps discussed here.
You will not find many formats that do not work in PiTiVi. If the movie formatting is supported by the GStreamer Multimedia Framework, PiTiVi can handle it.
Scaled Down GUI
The GUI you see in the application window is Plain Jane at best. But this film editor is anything but sparse when it comes to tools.
Aside from the traditional menu bar and a very skimpy toolbar, there is very little to see. The clip library much like OpenShot fills the left side of the app window. The viewing window and basic playback controls consume the right side.
But you can drag the size of the clip library window to create more real estate for the video viewing window. This is a nice touch.
Similar to both OpenShot and Avidemux, the bottom of the application window shows the video and audio tracking. Six control icons for splitting, linking and grouping selected segments are below the tracking indicators.
Hidden Features
I only became familiar with this film editor when Canonical included it as the default film editing app in Ubuntu version 10.04 LTS. On first blush, the overly simplified GUI turned me off to any serious consideration. But looks can be very deceiving.
Unlike the other two apps reviewed this week, PiTiVi relies heavily on drag and drop functionality for importing, adding and manipulating clips. Plus, this app has a highly configurable appearance and behavior for clip colors, snapping sensitivity, thumbnail, waveforms generation and more.
Rather than expose all of the project settings as part of the visible app window like the other two apps do, PiTiVi lays them out under a Project Settings choice on the drop-down Project menu on the top bar line. You will find most of the options within the menus or as right-clickable selections.
Feature Rich
Once I figured out where to find the features, I was able to do much more with PiTiVi than I could with Avidemux and OpenShot. It took a bit for me to warm up to this app. But in the end, I liked it much better.
It has unlimited video/audio track layering, full undo/redo history and more than the basic clip manipulation tools. It also has video thumbnail capability and fast, playhead-centered zooming controls.
If nothing else in the toolbox sold me on this video editing app, the mouse wheel integration made the deal. The mouse wheel has modifier keys for timeline navigation. Plus, I can use scrubbing and can link or group clips.