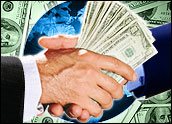 SiCortex, which bills itself as the first company to engineer a cluster computer from the silicon up, announced that it has closed a US$21 million round of funding, led by Chevron Technology Ventures through its venture capital arm, CTTV Investments.
The funding will go toward expansion of sales and marketing efforts and continued product development.
Boston, Mass.-based SiCortex, which is gearing up to build Linux clusters for technical applications, will unveil its ultra low power approach to high performance computing at the Supercomputing 2006 show in Tampa, Fla., on November 13.
Teraflop Performance
"Heat is the limiting factor in reliability and performance among computing systems climbing the list [of TOP500 Supercomputer Sites]," said Bob Metcalfe, SiCortex chairman.
"SiCortex begins with orders of magnitude lower heat per 64-bit processor, and aims to make teraflop performance ubiquitous," he noted.
The company has now raised a total of $42 million in two rounds of funding. All four of the first-round investors participated in the second round: Polaris Venture Partners, which led the first round, Flagship Ventures, JK&B Capital, and Prism Venture Partners.
Vote of Confidence
"The oil and gas industry has always been an early and aggressive adopter of high-performance computers," said Bill Seifert, managing partner, Prism Venture Partners.
"Chevron Technology Ventures' participation in this funding round reinforces our belief that high-performance computing users need a solution to the heat and power issues limiting their ability to scale up their HPC systems," he added.
"We are energized by the investment from Chevron Technology Ventures," said John Mucci, SiCortex CEO. "Chevron has a long history of HPC as a core competency. Their significant investment in SiCortex, along with our existing investors, is a huge vote of confidence in our strategy as we prepare to enter the market."