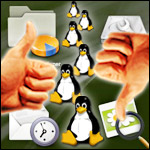 If you want a Linux distro that is different and almost always up to date, look no further than Manjaro. If you can get it to load on your computer, Manjaro has a few features that could interest a Linux user who likes tinkering with the OS.The latest release — version 0.8.8, or "Ascello," which came out last month — failed to impress me with its cantankerous loading, but once I got it running — which did not happen on all of my gear — I was pleased with its performance and ample desktop options. With a bit of maturing and some better quality control, Manjaro could be a worthy candidate to replace more established Linux distros.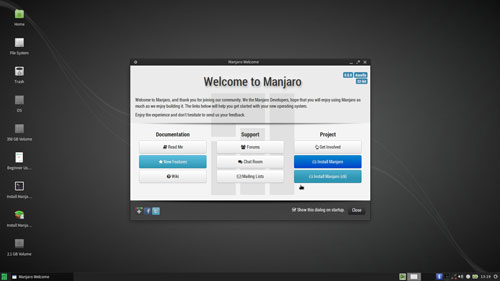 (click to enlarge)
More Hand-Holding
Manjaro is a young distro that's based on Arch Linux. Normally, Linux distributions based on Arch are unsuitable for newcomers to Linux and even some veteran Linux users who require easier user interface support. Manjaro's developers built this Arch Linux derivative around a series of system apps that make using it much easier, however.
For example, Arch distros usually require familiarity with terminal windows to carry out package installations and removals. This version of Manjaro, on the other hand, introduces some front-end assistance and improved system tools to provide considerable hand-holding for less experienced users.
Manjaro comes in both 32-bit and 64-bit versions with eight desktop interfaces. The primary choice is Xfce — this is an ideal starting point for delivering fast performance on older computers and getting easy operation out of the box.
The Manjaro Openbox version uses a highly configurable, next-generation window manager with extensive standards support. Advanced Linux users who prefer tinkering with how they control their OS will find a lot to like with this option.
The Manjaro Net Edition provides a base installation without a preinstalled display manager, desktop environment or any desktop software applications. However, it is designed with user-friendly principles in mind.
Get More Flare
The Xfce, Openbox and Net editions of Manjaro are the primary focus of the Manjaro developer team. Other desktops are available from the Manjaro community as bonus options. The Manjaro team oversee these other desktop options as time and resources permit.
These community editions might be more suitable for less experienced Linux users. The only drawback is a delay in updating the current versions. For instance, the KDE edition was last released in October while the Enlightenment 17, MATE and LXDE editions were updated in September.
I was looking forward to trying Manjaro's Cinnamon desktop edition, released in June, because Cinnamon is not often found in most of the more popular and better-known Linux distros besides Linux Mint.
The Cinnamon community released the latest version — 2.0 — in September, but the current release of Manjaro Cinnamon edition still uses Version 1.8.
Rolling Replacement
One of the advantages to running the Manjaro distro is its rolling update philosophy.
Most Linux distros handle version upgrades by requiring users to either do an upgrade through the software manager tool (Ubuntu is one example that uses this approach) or by formatting the Linux partition on the hard drive and performing a clean installation, as Linux Mint requires. Instead, Manjaro continually updates and upgrades the same core components.
Since the various downloaded versions of Manjaro contain different version numbers and upgrade dates, I question the validity of the rolling release development model the way Manjaro's developers apply it. The numbering method suggests the process more resembles the standard release development model, but the developers argue that what they track using seemingly traditional version numbers is actually images that portray the Manjaro system at a particular point in its development.
Feature Fantastic
In any case, the developers are moving Manjaro further away from Arch Linux's reputation for user-unfriendliness. This latest release adds several system improvements to that end. Some of these features will vary in their effectiveness depending on the desktop environment used.
For example, this latest release includes a graphical installer and settings manager. Manjaro now relies on LXDM/Slim as its display manager.
I tend to use a variety of Linux distros on numerous dual-booted computers. Whenever possible, I keep the inventory of applications I use the same on all distros. Manjaro comes populated with a wide range of software that are desktop-dependent.
For example, I tested the Cinnamon desktop on one computer and the Xfce edition on another. Both had installed LibreOffice and Firefox. Not much else was in common except for the core system tools.
First Impressions
The difficulties I encountered with installing and running Manjaro would normally have pushed me to part company with this distro. I must assume that the rather rapid development cycles and the number of different desktop environments in the fray caused some quality control issues.
That would partly explain my difficulties in getting the live-session DVDs of Cinnamon, Xfce and Openbox editions to run. This failure was not the result of a corrupted download or disk burning error. The same DVD did work on some hardware but not others.
The Openbox edition did not run at all on any hardware. Both the Cinnamon and Xfce editions ran on some of my Intel and AMD hardware but not on every one of my six test computers. In some cases on 64-bit computers, the 64-bit DVD failed to boot but the same hardware booted fine with the 32-bit version.
To my pleasure, all of the editions that ran on my laptops found the wireless connection without any difficulties. In all my Linux distro testing, it's not often I can make that assertion.
Faulty Sign On
On the computers that succeeded in booting the DVD live session, my most bothersome problem was not being able to log on. Usually, live-session DVD installations boot into the Linux desktop without requiring a user name and password. You have to get beyond that point in order to start the hard drive installation.
Manjaro displays a note on the log-on screen announcing the default user name and password are "manjaro." I could not get beyond that point on some of the test computers. After I entered "manjaro," the system reported that authentication failed. Having to enter a user name and password just to get into a live session is ridiculous.
I tried using the command line instruction provided on the log-on screen to install Manjaro directly without first getting to the desktop, but the user name and password required failed once again.
Bottom Line
Whereas Arch-based Linux distros tend to target more advanced users, Manjaro is trying to bridge that gap to make using it more like Ubuntu and Linux Mint.
The numerous common desktops like Xfce, Cinnamon and LXDE add to the ease of use and make the most of new users' familiarity with other Debian-based distros. More experimental desktops such as Openbox and E17 may be attractive to more daring Arch Linux users.
Given Manjaro's rapid progress in a short time span, it could very well become the user-friendly choice among Arch Linux distros.
Want to Suggest a Linux Application for Review?
Is there a Linux software application you'd like to suggest for review? Something you love or would like to get to know?
Please send your ideas to me at [email protected], and I'll consider them for a future Linux Picks and Pans column.
And use the Talkback feature below to add your comments!