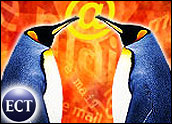 Micro Focus International, a provider of legacy application development and deployment software, announced Wednesday that it will provide a method for migrating legacy applications to HP and IBM Unix and Linux servers.
The migration service is part of the company's "Lift and Shift" offering, which combines technology from Micro Focus with services from system integrators. Previously, this service was available for the Windows platform, but Micro Focus vice president of marketing Mike Gilbert told LinuxInsider that there has been tremendous interest in making this ability available for Linux and Unix.
"It's a significant opportunity for companies to be able to take mainframe applications and run them on a Linux platform," he said. "It gives companies the opportunity to scale."
Making the Switch
Micro Focus Enterprise Server, which has a mainframe transaction option, lets customers take CICS-based Cobol applications and move them to HP platforms running Unix or Linux without rewriting entire applications.
Once the application has been rehosted, Micro Focus claims it can be extended more easily and effectively through the use of XML and Web services to a services-oriented architecture.
Systems integrators help address application-specific and operational issues that might arise. Gilbert noted that it is not a completely seamless transition, which would be impossible given the size of the task. But he is confident the one-two punch of Micro Focus technology combined with system integrator expertise serves customers well.
"Sometimes, an organization needs to understand how to run Unix or Linux, so some training may be involved," he said. "System integrators help smooth the transition."
Integrators for HP are BluePhoenix Solutions and HP Consulting, and for IBM, main partners are CSC, EDS and IBM Global Services.
Power of the Penguin
One of the reasons that Linux has garnered such interest for companies wishing to migrate their legacy systems is cost, said Ted Venema, senior vice president of product management for BluePhoenix.
"It reduces maintenance costs, and allows companies to migrate in a step-by-step fashion," he said. In the past, transitioning from legacy systems to Linux would involve high initial costs, even if the ROI made sense in the long run.
"For many people," Venema said, "it was too big a jump to do it in one piece like that." He noted that the approach taken by Micro Focus and partners like Blue Phoenix lets companies transition slowly.
"This is a faster way to get ROI," he said. "So, you can save a bunch of money and then move on to phase two."
BluePhoenix is already seeing strong interest, according to Venema. It announced Wednesday that B2B integration company Global eXchange Services decided to migrate its proprietary billing system to a Linux-Oracle platform.
In a statement about the migration, GXS vice president Marcellous Frye noted that the company expects to see significant cost savings by reducing its reliance on proprietary mainframe hardware and software.
From Old to New
Analysts have noted that one of the reasons Linux adoption is not proceeding at a brisker pace is that many companies have custom applications and legacy systems that would be too expensive to migrate.
With the ability to bring Linux into a legacy environment, Gilbert believes that it will change the pace of Linux adoption. "When I look at how companies are running Linux, I see people doing edge workloads, like print servers," he said. "This opens up the ability to run mission-critical workloads." That also extends to custom applications, he added.
The company plans to promote the benefits of the migration strategy, with particular focus on success stories like GXS. Gilbert feels that as legacy systems age, more companies will be looking at Linux. He noted that around 70 percent of the world's data is processed by legacy applications, but many of the old mainframe platforms are costly or reaching the end of their lifecycles.
"With this strategy," he said, "we can unlock the value of legacy and drive Linux adoption at the same time."