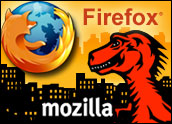 Microsoft is extending an olive branch of sorts to rival Mozilla.
Sam Ramji, director of Microsoft's Open Source Software Lab, has offered to help Mozilla make sure its Firefox browser and Thunderbird e-mail client run smoothly on Windows Vista.
Ramji posted the invitation to the Mozilla development planning discussion group on Google Saturday, and in what appears to be a gracious gesture, he offered one-on-one support for Mozilla developers on behalf of his firm.
"As part of my mission as an advocate for open source applications on Windows, I've gotten spaces set aside at the Windows Vista Readiness ISV Lab," Ramji wrote in the posting, noting that in the past, Microsoft has only invited commercial software developers to participate in its labs.
Open Invitation
Ramji then expressed his commitment to evolving Microsoft's thinking beyond commercial companies to open source projects. That, he added, is why he made what he called a "non-trivial effort" to get slots for non-commercial open source projects.
With its Open Source Software Lab project, Microsoft provides secure office space for developers, plus hardware, VPN access, and one-on-one access to Microsoft product team developers and support staff.
Mozilla has not posted a reply to the thread. Mozilla executives were not immediately available for comment, but at least one analyst had some thoughts on what he sees as an interesting proposal.
Digging on Firefox
"I think it's commendable that Microsoft is outreaching to the Mozilla folks," JupiterResearch analyst Joe Wilcox told LinuxInsider. "On the other hand, this very public invitation is a little bit of a dig and smells of PR as well."
That suspicion comes despite Ramji's suggestion that he had wanted to send the invitation directly to Mozilla, but decided to post it on the Google group "in case their spam filters are set to block @microsoft.com e-mail addresses."
Wilcox, for one, said he would be shocked if Mozilla considered @microsoft.com a spam address and called the assertion "an unnecessary dig." There are certainly open channels of communication between developers, he added, and Mozilla has a relationship with Microsoft at some level.
Competitive Relationship
Mozilla and Microsoft's relationship has been marked by competition over the past two years. Mozilla launched a direct attack against Microsoft's Internet Explorer Web browser when it released the open source Firefox. Its e-mail client, Thunderbird, meanwhile, competes directly with Microsoft's Outlook.
Firefox has proven to be a formidable IE competitor, winning about 15 percent of total browser market share since Mozilla introduced the application in 2004. Microsoft has since seen its share of the browser market fall from the high 90s to under 80 percent. Now, Mozilla and Microsoft are racing to put out new versions of their competing products.
"Keep in mind that people don't buy operating systems, they buy applications. So operating systems really only succeed if there are compelling applications," Wilcox concluded. "Firefox is a popular browser. Microsoft should want it on Windows Vista."