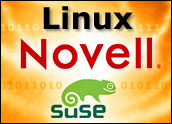 Microsoft andNovell announced this week a deal to promote and support Novell's Suse Linux alongside Windows. That's right, Microsoft will promote and support Linux — but only as long as it's from Novell.
Following last week's big news of an Oracle-Linux play, Microsoft and Novell said that they would not only support each other in sales and technology but also share patent coverage among their customers.
The move was viewed as both a recognition of the power of Linux and a possible danger for non-Novell Linux users. The wider view now shows both Oracle and Microsoft carving out their own pieces of the Linux market.
"The key is, Microsoft is trying to say if you're going to commingle Windows and Linux, it better be Suse," Interarbor Solutions Principal Analyst Dana Gardner told LinuxInsider. "Otherwise, it'll be a legal risk."
Windows-Linux Love
Microsoft's partnership with Novell covers "broad business and technical collaboration agreements to build, market and support solutions to make Novell and Microsoft products work better together," according to a statement by the companies. It comes on the heels of other recent Microsoft agreements with open source vendors, including XenSource, SugarCRM and Zend.
The Microsoft-Novell pact, which also includes an agreement to provide each other's customers with patent coverage, will last until at least 2012, said Microsoft, adding that its goal is to boost flexibility, interoperability and management of mixed Windows-Linux environments.
"This is a new model and a true evolution of our relationship that we think customers will immediately find compelling, because it delivers practical value by bringing two of their most important platform investments closer," said Microsoft CEO Steve Ballmer.
Into the Game
Similar to Oracle's latest overture to Linux users, the deal with Novell represents Microsoft's attempt to "get in the open source game," Gardner said.
"Microsoft is ceding Linux has won," he said. "They're not going to beat it out of the market, so they're saying, 'you better use our brand or we'll sue.'"
While he doubted the effectiveness of a Microsoft litigation campaign against Linux, Gardner indicated that the deal is key for Novell, which was in a weakened position after Oracle's entry into the Linux support and services market.
Weighing In
The Oracle and Microsoft Linux announcements highlight how proprietary software and system vendors can get involved in the Linux market to the degree of causing disruption, Gartner Vice President George Weiss told LinuxInsider.
"The big players are weighing in. Oracle can disrupt Red Hat. Microsoft can weigh in on Novell's side," he said.
Although Microsoft and Novell revealed some aspects of their collaboration — focusing on virtualization, for example — no substantive road map for the partnership has emerged, Weiss said, adding that Microsoft made similar interoperability deals in the past — such as one with Sun Microsystems — that have not fully come to fruition.
Lifting Linux
At least part of the Microsoft-Novell deal was a reaction to Oracle's Unbreakable Linux announcement last week, Weiss said. Some may be apprehensive and cynical about Microsoft's embrace of Linux, and both companies will have to deal with those issues, he added.
As far as the deal's impact on Linux overall, Weiss said it could "propel the water line of Linux" by making the open source platform a better fit for Windows users, particularly all-Microsoft shops. "Novell will benefit where they had no reach before," he added.
Red Hat will now be challenged to compete with Oracle and Microsoft, and even moreso with its Linux rival, Novell. The Microsoft-Novell announcement did not, however, ape the negative tone of Oracle's Linux announcement, which openly challenged Red Hat's Linux support, said Weiss.