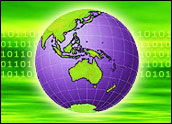 Last summer, Microsoft began testing an inexpensive version of Windows in Thailand, and on Wednesday confirmed that its official name is now "Windows XP Starter Edition." The Starter Edition is included in a cheap Windows bundle that is partly designed to combat Linux in Thailand, say some analysts.
Microsoft has noted that the edition will be part of a government-sponsored program to provide more affordable personal computing power in Thailand. It is similar to initiatives in Malaysia, where the company has developed a stripped-down Windows XP and Microsoft Works bundle.
Strip Club
When Microsoft first offered the then-unnamed Starter Edition, it noted that it would decide later — on the basis of customer feedback — whether to continue offering it. After nearly 1,000 customer interviews, the company announced it will officially roll out the Starter Edition in September.
This "beginner's" version of Windows lets Microsoft be part of Thailand's government program without changing the company's policy of charging the same price globally for Office and Windows. The PCs in the program were originally running only Linux.
The bundle that Microsoft has been offering includes Windows XP Home and Office XP Standard. Microsoft has stripped some of the features from the products, although information on what is lacking has not been released.
Currently, the bundle's price is approximately US$38. This is in marked contrast to Microsoft's prices in other countries. For example, in the United States, the XP Home edition is $225, while the Office edition is usually $499.
Microsoft also has not released information on whether pricing will stay the same or features will be tweaked. The company did note that what has been available up to now was an interim offering, and that Thailand will see a more tailored product in the fall.
Fighting the Penguin
Analysts have noted that Microsoft began offering the Thailand-geared bundle at a time when Linux was beginning to have an effect on the marketplace in that country. Other Asian countries also have been moving toward implementing open source, citing concerns with Microsoft's pricing, support and market domination.
Gartner predicted that Microsoft might be compelled to continue cutting its prices in poorer countries to compete. Jessica Keller, speaking on behalf of Microsoft, told LinuxInsider that recent data has diminished that idea that Linux provides a lower total cost of ownership.
The fact that Linux has been so much less expensive than Windows has been a major factor in some customer decisions to ditch Microsoft. But this may be changing, Keller said.
"Linux vendors are now offering supported products that are similar in cost to their equivalent commercial offerings," she said. "The perception of Linux as free is quickly disappearing."
Several Asian countries have not been shown to share the sentiment. Last September, China, Japan and Korea expressed interest in developing an open-source operating system to replace Windows.
Further Battle
Yankee Group analyst Laura DiDio noted that Microsoft will continue to fight Linux along this vein, emphasizing the cost effectiveness of Microsoft's products, especially in Asian markets.
In an interview with LinuxInsider, she said that in the past two years, people have been defecting from Sun Solaris. "Those customers would have gone to Microsoft if Linux hadn't been there to give them a choice," she said. "This has had an effect on Microsoft and the way it operates."
DiDio added that, beyond the play in Asia, Microsoft is gearing up to fight Linux on other fronts as well. "Microsoft is doing rebate deals and putting other things together," she noted.
"This is going to be a year of deployments," she added. "And if there aren't enough applications in vertical markets that are available in Linux, Microsoft could win by default."