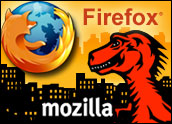 Mozilla is calling on independent filmmakers looking for their first big break. The open-source software maker yesterday launched the Firefox Flicks Ad Contest, which calls for submissions of 30-second ads from anyone and everyone.
Mozilla has seen over 10 million Web users adopt Firefox 1.5 in less than one month since its release. Mozilla said the Flicks Ad Contest seeks to build on that momentum by continuing its tradition of empowering its user community to spread the word about Firefox.
"This contest calls upon professional, student and aspiring filmmakers to join the growing community of Firefox contributors to create innovative, broadcast-quality 30-second commercials for Firefox," Mozilla spokesperson Elizabeth Anderson told LinuxInsider. "The winning ads will also be considered for inclusion in global marketing campaigns for Firefox."
Enter and Win
Mozilla has outlined some specific rules for its latest contest. The company wants entrants to understand the target audience: moderately experienced Web users who are comfortable using the Web but are not necessarily power users. After watching the ad, Mozilla said the audience should be "intrigued enough by Firefox to visit getfirefox.com to learn more."
Mozilla said the tone should be exciting, easy, simple, fun, modern, smart, cool, adventurous, young, empowering, and helpful and the ad should function more at the brand level than the product features level. The company encourages entrants to take risks and avoid overhype.
Mozilla's key messages? It want the films to communicate that Firefox offers a better way to experience the Web. That it's secure, easy to use, and customizable. That having a choice in Web browsers matters. That the Web is too important to too many people to let a single company decide how we all get there. And that the Web browser has a dramatic impact on the user's experience of the Web.
For initial consideration, contest entrants are required to upload a compressed, half-NTSC-resolution, full frame rate MPEG-4 video of less than 10 MB. Once the entry is accepted, entrants will receive a confirmation e-mail with instructions for mailing the full-size media to Mozilla. The deadline is midnight March 31, 2006.
Star Panel of Judges
Mozilla said the ads will be judged by a star-studded panel of luminaries drawn from the film, television and advertising industries, including cinematographer Jim Denault, cinematographer of "Six Feet Under," McG, director/producer of "Charlie's Angels," and Freddy Rodriguez, actor from "Six Feet Under," among others.
The first place winner will receive a US$5,000 gift certificate to B&H, the professional photo, video and audio retailer. Second place wins a 9X Media X-Top Triple LCD scalable ergonomic Multi Screen Display. Third place wins an Alienware DHS 5 series of media center systems featuring Microsoft Windows XP Media Center Edition 2005.
Lighting a Fire
Mozilla said tens of thousands of volunteer supporters congregate regularly at Mozilla's community marketing Web site, SpreadFirefox.com, to coordinate global grassroots marketing initiatives for Firefox.
Earlier this month, Mozilla unveiled the first phase of the Firefox Flicks campaign: a Testimonials Web site where Firefox users can record video testimonials and tell others why Firefox provides a better Web experience.
To date, Mozilla said several dozen testimonials from over 20 different countries have been published to the Web site, with many more recorded each day.