The Mozilla Foundation on Tuesday announced that smartphones running its Firefox OS will be available to developers in February.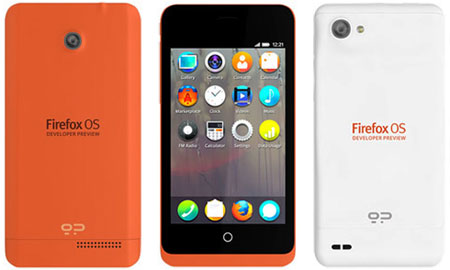 The preview phones are being produced in collaboration with Geeksphone and Telefonica.
The idea is to entice devs to create apps for the Firefox OS.
"These devices have not been designed for consumers," Mozilla spokesperson Diane Zuniga told LinuxInsider. They run pre-release development versions of Firefox OS.
"Today's announcement does not represent a commercial launch for Firefox OS," Zuniga emphasized. That is expected to take place later this year.
Dev Phone Specs
Two smartphones are lined up for the dev preview.
The Keon, which is touted as a light developer device, has a Qualcomm Snapdragon S1 1-GHz CPU. It sports a 3.5-inch half-size VGA (HVGA) multitouch screen and a 3 MP camera.
The Peak is the heavy hitter. IT has a Qualcomm Snapdragon S4 dual-core 1.2 GHz CPU.
It features a 4.3-inch qHD screen. With a display resolution of 960 x 540 pixels, qHD screens offer one quarter of a full 1080p HD frame in a 16:9 aspect ratio. HTC's Sensation and Evo 3D, as well as Motorola's Droid Razr and PlayStation's Vita all use qHD screens.
Further, the Peak has an 8 MP camera with flash.
Both phones include a MicroSD slot, light and proximity sensors, GPS, and a MicroUSB slot. They support 802.11n WiFi. Both run High-Speed Packet Access (HSPA) 3G communications and EDGE GSM for 2G communications.
Pricing will be announced in early February.
Mozilla's Strategy
The Firefox OS, code-named "Boot to Gecko," or B2G, was designed to allow HTML5 apps to integrate with devices' hardware using JavaScript.
B2G has been demonstrated on various smartphones including the Samsung Nexus S and a ZTE smartphone, as well as on the Raspberry Pi.
The Geeksphone devices "will allow developers to test the capabilities of Firefox OS in a real environment beyond the facilities provided by current emulators," said Mozilla's Zuniga. "It will be possible to test some characteristics like real performance and interaction with the mobile network."
The first commercial versions of the dev phones will target "better performing smartphones at accessible price points in Latin America and Europe with Telefonica," she noted. Other plans will be announced later.
Analyzing Mozilla's Plans
"What Mozilla is doing is great for the Web ecosystem by pushing the Web platform as a first-class development environment," Al Hilwa, a research program director at IDC, told LinuxInsider.
"Aside from the maturity of tools and testing, the key issue in birthing a new hardware platform is how many devices a developer can reach with a given unit of effort," he pointed out.
The write-once-run-on-many appeal of HTML5 that Mozilla appears to be counting on may not pan out quite the way it's expected to because "the exploitation of advanced device features in Web apps requires unique work for a platform and extensive testing for a major app," Hilwa explained. "The challenge Mozilla faces is whether it is able to break through into the mass market with its platform."
Android and iOS have the mobile phone OS market sewn up, and even a deep-pocketed entrant like Microsoft is facing an uphill climb.
As for the brand new Firefox OS' chances, "given the diversity of entrants, it is hard not to be skeptical," Hilwa remarked.
Room for One More?
On the other hand, mobile operators "seem to be tired of the dominance of Apple and Android," remarked Carl Howe, a vice president of research at the Yankee Group.
"While we haven't seen a successful Web-only mobile OS yet, we could see such platforms play an important role in low-cost smartphones for emerging markets," Howe told LinuxInsider.
"With no need to pay for OS licensing and with cheap mobile Web applications taking the place of more expensive native app development," he said, "a Web-based mobile OS could reduce costs and shorten time to market for smartphone manufacturers focusing on the under-(US)$150 market."