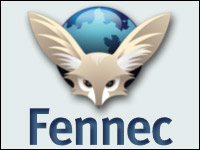 Mozilla on Monday announced the first alpha release of its Fennec mobile browser for the Windows Mobile 6 operating system (OS).
This alpha is available only on the HTC Touch Pro from Sprint. Versions for other smartphones will be unveiled later.
While Microsoft continues to upgrade the sixth version of its mobile OS, it is expected to release a new edition, Windows Mobile 7, next year.
What's It All About?
Mozilla first tested Fennec on Maemo, a software platform developed by Nokia with various open source projects, including Debian and Gnome.
Having ironed out some of the problems on that platform, the vendor then moved to Windows Mobile, according to Brad Lassey, lead developer on the Fennec project.
Fennec's developers rebuilt its user interface controls so they are now entirely based on cascading style sheets (CSS). This will let Mozilla more easily adjust its UI for various screen sizes and resolutions in the future, Lassey said.
The UI's look and feel are still a work in progress.
Fennec will run on both Windows Mobile 6 and 6.1, Lassey told LinuxInsider.
Still a Long and Winding Road
This release of the Fennec alpha for Windows Mobile 6 supports add-ons that let users personalize the browser. These include a Twitter bar that lets users post comments to Twitter from their device's address bar and AutoAuth, which automatically submits HTTP authentication dialogs when the user sets the browser to save login information.
Several problems still need to be resolved — which, after all, is why this alpha was released.
One is panning: There is a "noticeable delay" between the user first touching the page and the page moving, Lassey said. Mozilla developers are working on optimizations for drawing that take advantage of graphics processors. They are also looking at enhancements to the networking layer to optimize the browser for high-latency networks.
The HTC Touch Pro
This alpha release has been optimized for the HTC Touch Pro offered by Sprint. That's because the device can run full debug builds of Fennec, Lassey said.
Mozilla will add support for other devices but has not yet decided which ones.
HTC, a Taiwanese device manufacturer founded in 1997, got its start making phones for the Windows Mobile platform. In 2008, figures from research firm IDC showed it had roughly 5 percent of the global market, coming in third after Nokia and Motorola. Another notable HTC phone is the G1, offered by T-Mobile, which uses the Android software platform.
The Only Game in Town?
Windows Mobile 6 has seen two significant updates during its lifecycle. In April of 2008, Microsoft released Windows Mobile 6.1; Windows Mobile 6.5 is expected soon.
However, the modifications these updates offer have been quite subtle from the user's point of view. "There have been no substantial enhancements to the UI and the menu system," Ryan Reith, senior research analyst at IDC, told LinuxInsider.
"Windows Mobile still has the six-layer menu system like the PC, where to find one thing you have to click through several layers of windows," Reith said. That system may see changes with Windows Mobile 7, expected next year.
7th Time's the Charm?
The complexity of the Windows Mobile UI has led OEMs to put their own overlays on top of it to make search easier, Reith said.
However, many manufacturers and developers are waiting to see what Microsoft will do with version 7 of Windows Mobile.
"Version 6.5 was not too fascinating, to be honest," Reith said. "Everybody's waiting to see if they come up with a game changer in version 7."
Regardless of which mobile OSes Fennec finally grows into, creating a browser that efficiently navigates the Web from a handheld device with a relatively tiny screen will be no small challenge.
"There are many browsers available for smartphones," Ken Dulaney, distinguished analyst and vice president at Gartner, told LinuxInsider. "They all have issues because of inconsistent support for plug-ins and issues with size reduction."