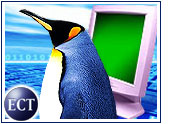 Munich announced that patent concerns will not affect a planned migration to Linux for 14,000 of the city's desktop computers.
Although the city had unveiled a plan last year for the move, on August 4 it decided to postpone the program, nicknamed LiMux, citing legal and financial concerns over software patents that it wanted to clarify before proceeding.
Analysts have noted that the hesitation might also have been brought on by political goals and cost issues.
Whatever the reasons for the delay, Munich mayor Christian Ude recently emphasized in a press conference that the city is committed to open source, and anticipates it will follow through with the migration as planned.
Guten Tag, Linux
In a recent report, Gartner analyst Andrea Di Maio noted that the research firm does not believe patent concerns were the primary motivation for Munich's postponement.
He wrote, "Legal risks mostly come from U.S. patents, and no vendor with relevant patents seems to have shown any interest in threatening or initiating a lawsuit." Instead, he continued, the patenting issue might have suggested to Munich that it underestimated costs and risks when calculating TCO for LiMux.
In an interview with LinuxInsider, Di Maio noted that Munich declined to share details of its Linux decisions with analysts. "To me," he said, "this indicates that they might have wanted more time to go through the numbers."
As Linux becomes more widespread in Europe, it is possible that other countries looking to adopt open source will face the same TCO issues and take a harder look at cost.
"The bottom line, in our view, is that if you're a government entity and you're considering Linux, you need to get your act together," said Di Maio. "You have to look at all the factors, such as how open source will benefit local industry."
Mixed Reactions
Munich's move toward Linux and subsequent stall also highlights the differences between European countries in their attitude toward Linux. Di Maio said that often there are differences even within a country, depending on the political climate of a city or region.
"There tends to be a correlation between Linux and governments that are more left wing," he said. "That's not 100 percent the case, but there's a strong connection."
However, as Linux use grows, those political distinctions might be lessened as the use of open source becomes more of a business decision and less of a political statement.
"Governments have to evaluate open source properly," said Di Maio. "That includes being able to demonstrate, in a quantifiable manner, how it will impact the region or city." He added that such a focus has a tendency to make party affiliations irrelevant.
Legal Eagles
Another reason that Munich's delay is notable is that it puts focus on intellectual property issues and how they are being played out on a global scale.
Steve Frank, a partner in the patent and intellectual property group of Boston-based law firm Testa Hurwitz & Thibeault, told LinuxInsider that technology companies are far more aware of intellectual property concerns now than in the past.
"What we're seeing is much more interest in terms of patents, legislation and litigation," he said. The ups and downs of SCO's lawsuits against IBM and others are an indication that software issues are being closely watched.
Frank noted, "We're going to see much more activity in this area, as people become more comfortable with using patents in combination with software development."
As that happens, it is possible that Linux migrations will warrant a closer focus, as Munich has discovered. Di Maio did note that even though such issues might be more prevalent, it does not mean that Linux adoption will be seriously hindered by the situation.
"Governments are learning that they have to evaluate every aspect of Linux," he said. "They're figuring out how to look beyond just cost or intellectual property, and build a business case for using it."