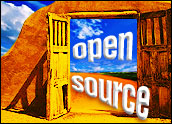 Open source database vendorMySQL released new functionality and services under an "enterprise" moniker, reflecting the Swedish company's aggressive strategy for acquiring bigger and better customers.
Taken together, all of the open source databases — including MySQL, Ingres and PostgreSQL — occupy only a sliver of the enterprise market. However, they are quickly growing in terms of market share and enterprise capabilities.
"It's getting better," Gartner Principal Analyst Colleen Graham told LinuxInsider. "They've actually come very far, very quickly," she said, referring both to functionality and third-party support.
That said, "they still have a long way to go," Graham added.
Feeling the Heat
With features such as a monitoring and advisory service, MySQL Enterprise will "supercharge" database administrators (DBAs), Chief Executive Officer Marten Mickos said.
"It provides a heat chart of all your MySQL servers, and it has a set of rules that it tests against the databases to detect anomalies and problems," he told LinuxInsider. "Therefore, you will find problems before they start harming you, and you thereby have better uptime."
The latest features and services are typical of open source software, Mickos noted, in that customers told developers what they wanted.
"Closed source vendors many times don't really listen to their customers and don't produce what they really, really need," he maintained.
Not on Par?
While Mickos contended that MySQL is addressing key corporate customer needs — reliability, uptime, scalability and ease of deployment — Gartner's Graham said MySQL and other open source vendors are still a long way from matching the features and functionality of enterprise database giants IBM and Oracle.
"In terms of features and functionality, they're not up to par competing with [IBM's] DB2 and Oracle server," Graham said.
Although the open source share of the enterprise database market is poised to grow from less than 1 percent to 5 percent by 2010, there will still be little impact on the dominant players, she said.
IBM, Oracle and other proprietary database vendors have been providing free versions and open code in an offensive move, according to Graham, in order to "stymie [the open source players] until they're in a position where they are a threat."
Old World, New World
However, the enterprise database leaders — which Mickos described as "old databases" — scale up, as opposed to scaling out. That is, they incorporate bigger and more expensive hardware instead of adding more servers of the same type.
"This new architecture also puts new requirements on the database management system (DBMS), so the feature functionality is different," Mickos noted.
He touted some of MySQL's customers, indicating that the "new model" is the basis of successful technology strategies.
"We look at our modern customers to know what to do, not at old-school competitors," he said. "In that comparison, we are doing very well. Otherwise, YouTube, Google, Yahoo and corporations such as Cox Communications, NASA and others couldn't scale so rapidly on MySQL."