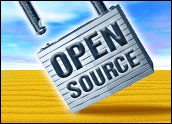 The Open Source Initiative on Friday announced a new interim president and plans to focus on evaluating the OSD licensing process with its recently added international board members.
OSI is the non-profit corporation responsible for the management and promotion of the Open Source Definition, which sets the criteria under which software may be called open source.
The organization appointed Michael Tiemann as interim president until a full-time president is selected to succeed Russell Nelson. Tiemann is also vice president of open-source affairs at Red Hat.
Crucial Issue
"Licensing is perhaps the most important issue facing open source today. As steward of the Open Source Definition, OSI takes very seriously its responsibility to ensure that licenses remain true to the fundamental principles of open source," said Tiemann.
Earlier this year the OSI expanded its board of directors, adding non-U.S. representatives from Brazil, Taiwan, Sri Lanka and the Netherlands. Former president and long-time member Eric Raymond has stepped down from the board, but he has said he will remain involved with the organization.
According to analysts, the current OSD licensing process is in need of revision because there just are too many licenses in existence that lack adequate community support.
Too Many Licenses
Steve O'Grady of research firm Red Monk told LinuxInsider that licensing proliferation stems from individual enterprises creating their own open-source licenses.
"Enterprises have created their own licenses for legal and vanity reasons, but less than 60 open-source licenses have a sizable community around them," O'Grady said. "Frankly, I think the enterprise understanding of what it meant to create a license and build a community wasn't as sophisticated a couple of years ago as it is today."
Lesser of Two Evils
O'Grady said the open-source licensing proliferation was allowed to continue for several years as the OSI gained status in the enterprise. Now that the open-source community is strong and vibrant, he said, the new focus is on how to rectify the situation.
"Allowing an enterprise to create its own license rather than not participating in open source at all was the lesser of two evils," he said. "Sacrifices had to be made. The revamped OSI is probably looking to address this proliferation by preventing it going forward and streamlining some existing licenses."