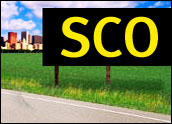 Two orders have been issued in SCO Group's cases against IBM and Novell that could impact how the legal wrangling proceeds.
U.S. District Judge Dale Kimball is hearing both cases, which involve contract and copyright infringement claims and counterclaims against IBM, and slander claims against Novell.
In his new ruling, Judge Kimball has denied SCO's request, made in March, to split the patent counterclaims. The judge did agree to SCO's request for additional time to extend the discovery portion of the case.
Judge Kimball also denied SCO's motion to move the case against Novell to state court, and quashed Novell's motion to dismiss.
Curiouser and Curiouser
As the SCO case progresses, it seems that both sides are willing to bring out as much legal heavy artillery as possible. Yankee Group analyst Dana Gardner told LinuxInsider that the back-and-forth claims and accusations are compelling.
"They're each trying to get leverage," he said. "It sets up a series of conundrums, with the main one being disclosure of information. IBM has been asking for SCO to show them the evidence of their wrongdoing, and SCO has said that doing such a thing would weaken their case."
The complex case began in March of last year, when SCO sued IBM, claiming that the company put parts of Unix into the Linux operating system, and that the situation constituted a breach of contract with SCO. Originally, SCO sued IBM for US$1 billion, then increased its claim to $5 billion.
IBM counterclaimed, accusing SCO of treading on its intellectual-property rights. It also argued that SCO is in breach of the General Public License that determines the distribution of most open-source software. These were the claims that SCO had wanted to split and deal with separately, only to have the motion denied by Judge Kimball.
In the meantime, Novell had emphasized its copyright claims for Unix, leading to a SCO suit against the company for slander.
Decisions, Decisions
In his recent decisions, Judge Kimball had mixed results for SCO. Although he did not agree to Novell's motion to dismiss, the judge did note that SCO had failed to establish that Novell's statement about its Unix copyright claims is inaccurate. He also said that SCO has failed to show that Novell's statements have caused damages to SCO.
One of the most critical aspects of Judge Kimball's decision was in granting SCO more time for the discovery portion of the case. The trial was originally supposed to start in April 2005, and is now scheduled for November 2005. Judge Kimball then warned that the schedule will not be altered again for either company, unless there are "extremely compelling circumstances."
"Perhaps SCO thinks that if they stall for long enough, someone will pay them some money," Phil Albert, a partner with San Francisco firm Townsend and Townsend, told LinuxInsider.
Albert said that, at the very least, the court will ask SCO to fill in some gaps during the discovery process to beef up the amount of evidence.
Quick End Ahead?
There is currently a motion for summary judgment pending from IBM, which asks the judge to issue a judgment without going through a trial. If the motion is granted, it could mean a speedy end to the complex case.
"A summary judgment is a big deal," said Jeff Norman, intellectual property partner in Chicago firm Kirkland Ellis, in an interview with LinuxInsider. "It says, we don't think you can ever prove your case. We don't think your evidence exists."
If IBM manages to receive such a judgment, then SCO would be effectively blown out of the water. However, it is not an easy tactic.
"They're very hard to get," Norman said, "because they deprive the plaintiff of their day in court. When they're granted, they dispose of the case except for some ability to appeal. But it says the case is too weak to have been brought in the first place."
"There's a bit of a chess game going on here," he added.