The first reviews of the Samsung Galaxy Gear smartwatch have hit the Internet and they are generally tepid.
CNET editors described the device as offering style over substance and awarded it 2.5 stars out of 5; The Verge's review describes it as "a rough first draft" and "unintuitive, oversized, overpriced and in constant need for a Galaxy guardian"; Wired gave it 4 points out of 10.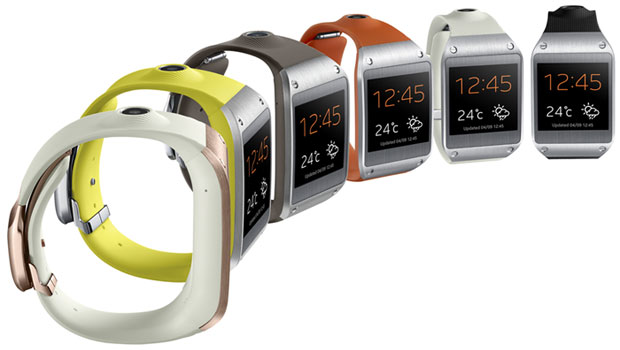 However, "I'm not sure how anyone can give it a rating of anything until it is put through its paces over time by consumers actually using it in real-life situations," Larry Chiagouris, a professor of marketing at Pace University, told LinuxInsider. "That will be the most reliable source of feedback."
A Quick Rundown
The Galaxy Gear is built around an 800 MHz Samsung Exynos processor. It has a 1.63-inch Super AMOLED display with a resolution of 320 x 320 pixels.
It has a 1.9 MP autofocus camera that take stills or records and plays back videos at 720p. It has two microphones, one speaker, an accelerometer, a gyroscope, and 4 GB of internal memory in addition to 512 MB of RAM.
The Gear measures 36.8 x 56.6 x 11.1 millimeters and weighs nearly 74 grams.
It supports Bluetooth 4.0 +BLE and comes preloaded with various apps.
Critics Speak
Many reviewers expressed concern over the Galaxy Gear's US$300 price tag, especially because the watch, which runs Android 4.3 Jelly Bean, is currently compatible only with the Galaxy Note 3 and Note 10.1.
For CNET, the good points were that it is attractive and comfortable, and it's easy to see incoming calls. The bad points were lack of email and social network support, limited compatibility with other devices, the requirement for an external charging case, and the inadequately functioning voice control.
The quality of the screen and of the pictures and calls were plus points for The Verge's Vlad Savoy, but the "utterly infantile dependency" it has on its connected Galaxy device, the lack of informative notifications, the fact that two of the apps he installed on the Gear failed to load most of the time and finally offered "frightfully limited functionality" when they did, were irritants.
Both Savoy and Engadget's Brad Molen criticized the Gear's design.
The camera is "an unsightly wart on one of the most visible parts of the watch," Molen said. He liked the screen and the native apps, but was not so pleased with Samsung's "half-baked attempt at notifications" or the S Voice app.
Making and receiving calls with the watch was easier than Wired's Christina Bonnington expected, and she liked the call quality. She also remarked on the good integration with apps such as Evernote and MyFitnessPal.
However, Samsung's execution is not enough to justify the Gear's price tag and "in many ways the smartwatch ends up being more of a nuisance than a convenience," Bonnington added.
What Should Samsung Do?
"I applaud Samsung for being early in the market, and I understand why they are limiting the devices [the Gear] can access, but there are unfortunate consequences to that," Daniel Matte, an analyst at Canalys, told LinuxInsider.
"It's a tricky balancing act, because they didn't have a chipset for the watch — they took a smartphone chip and downsized the core," Matte continued. "The main thing for them to do is add more sensors to the device."
There have been suggestions that Samsung should provide connectivity for the Galaxy Gear with smartphones from any vendor.
"I think the smart thing [for Samsung] to do is to package it with Samsung smartphones to give them an edge initially, but eventually the market will demand compatibility with all phones," Pace University's Chiagouris said.
The Galaxy Gear "will do well during this holiday season via early adopters and gifters," he predicted. "After that, it will depend on how well it meets consumer expectations."