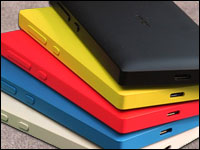 Nokia on Monday confirmed months of speculation with the unveiling of its X family of smartphones running Android.
The X, X+ and XL smartphones are priced at US$123, $136 and $150, respectively.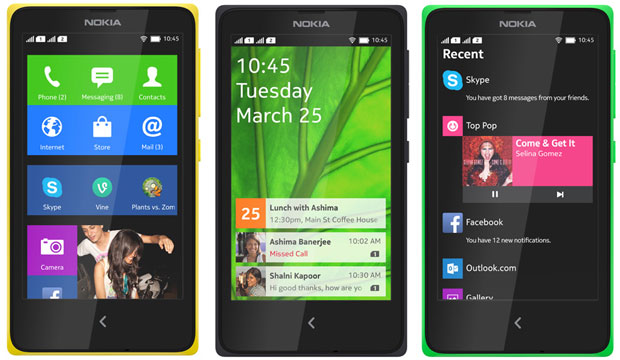 Like Nokia's low-end Asha line, the X devices come in bright colors. They borrow some of Asha's other well-received features as well.
Unlike the Asha smartphones, however, the X series will not be available in the United States. The product line is aimed at Europe, the Asia-Pacific, India, Latin America, the Middle East and Africa.
The X family smartphones are somewhat more expensive than the Ashas, which sell for as little as $73.
Echoes of WinPho
The X family uses a tiled interface reminiscent of the Windows Phone OS.
That lets Nokia position these devices "as the best of both worlds — Nokia/Microsoft and Android," Ramon Llamas, a research manager at IDC, told LinuxInsider. "It gives them access to the thousands of Android apps and also the popular and well-received products and services from Nokia and Microsoft such as Maps, Bing and Office. You still can't get a lot of Microsoft apps on Android."
X Is for Exciting
The X smartphones all run on a Qualcomm Snapdragon dual-core processor and can take dual SIM cards.
They come preinstalled with Nokia HERE Maps with turn-by-turn navigation and offline maps, Nokia MixRadio, access to Outlook.com, one month of free calls over Skype to international landlines in some markets, and 7 GB of free storage space in Microsoft OneDrive.
Preloaded third-party apps include BlackBerry Messenger, Plants vs Zombies 2, Viber, Vine and Twitter.
The entry-level X has a 4-inch IPS LCD screen, 512 MB of RAM and a 3-MP camera. The X+ has 768 MB of RAM and a 4 GB microSD card as well. The top-of-the-line XL has a 5-inch screen, the features of the X+, and two cameras.
"The X products are for emerging markets, where pennies matter more than features," Rob Enderle, principal analyst at the Enderle Group, told LinuxInsider.
Getting Around Google's MADA
Google has been known to employ a restrictive mobile application distribution agreement, or MADA, for Android that requires smartphone manufacturers to install all apps Google specifies, and display them prominently.
Nokia got around those requirements by using Android Open Source Project, which "is not full-blown Android and so avoids having cues for Google mobile services such as Search and Maps," IDC's Llamas said.
"There's something in that mix which says 'We'll use Android and make it look like a really strong Microsoft and Nokia experience," he noted.
That might play to Nokia's strengths.
"Nokia and Microsoft have replacements for any of the missing Google apps that are equal to, or better than, Google's offerings,"Enderle maintained. Nokia and Microsoft "forked Android like Amazon did, and given that Microsoft owns a lot of the Android IP, there is likely little Google can do about it."
Most Android apps will run on the X series without modifications, Nokia said.
Where X Will Take Microsoft
The X devices will let Microsoft and Nokia target the growing low end of the smartphone market, IDC's Llamas said.
However, the strategy of offering access to Android apps and Microsoft services could be risky.
"What happens when someone who owns one of these devices wants to move up to the Lumia and sees Lumias only run Windows Phone apps, so all of a sudden their potential app library goes from hundreds of thousands to currently just below 200,000 Windows Phone apps?" Llamas asked.
"Or if you're a high-end Lumia owner you might want to trade down to get access to all those apps," he suggested.
Nokia "had to make this move in order to remain viable in the market, but they have to carefully message this," advised Llamas, "so they can realize benefits from both the X and Lumia families."