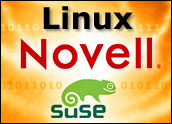 As the dust settles on BrainShare 2006, Novell executives are hoping the launch of its Platform for Open Enterprise will bring new converts knocking on its doors.
Open Enterprise is an architecture of software and services from Novell and its partners designed to help customers benefit from open source and open standards-based computing.
Novell introduced SuSE Linux Enterprise 10 last week as the core of the platform for the open enterprise, as well as enhancements to its security, identity and collaboration offerings. Novell also announced a significant expansion of its partnership with Dell, expansion of its Market Start program, and roadmaps for key product lines.
"The BrainShare theme of 'Open for Growth' emphasizes what this progress is all about: freeing up organizations to leverage technology in ways that improve their business," said Jack Messman, chairman and CEO of Novell, noting that open source and open standards-based computing have accelerated rapidly over the last year.
A Complete Platform?
SuSE Linux Enterprise 10 attempts to raise the bar for enterprise Linux computing, with performance, virtualization and management enhancements. In conjunction with the recently announced SuSE Linux Enterprise Desktop 10, Novell said SuSE Linux Enterprise Server 10 provides organizations a complete platform infrastructure.
Novell offers attractive products, good technologies and a smart strategy, but it remains to be seen if the company can execute the strategy, said Illuminata analyst Gordon Haff.
"Being a mixed-source company with one of the two leading Linux distributions, though a distant second to Red Hat, Novell looks good. It has a good identity management story, a loyal customer base and strong channels, but it has not demonstrated that it can execute its strategy," Haff told LinuxInsider.
Collaboration Technology
Perhaps Novell is looking for some aid from friends to help it execute its tactics. Novell has expanded its partnership with Dell with a new Novell-Dell solution to manage Linux dubbed Novell ZENworks 7 Linux Management – Dell Edition.
The exclusive edition delivers integrated hardware and software management capabilities for Dell PowerEdge servers running Linux. The product is expected to be available in April to allow customers to deploy, manage and maintain hardware, operating systems and applications from a single console.
Tapping into collaboration technology and integration, Novell introduced a Wireless GroupWise integration solution in partnership with Intellisync and Research in Motion at BrainShare, along with a new Open Workgroup Suite that includes server and desktop platforms with management tools, e-mail and collaboration and office productivity software.
Novell also introduced new security and identity management tools. The new features focus on helping organizations more effectively automate user provisioning, simplify single sign-on and manage shared network resources, helping customers enhance security and better automate business processes to deliver bottom-line savings.
Promoting Open Source
Dell is not the only industry leader that is helping Novell. Leading open-source vendors Alfresco, Black Duck, EnterpriseDB, SpikeSource and Novacoast have joined Novell's Market Start Program, which seeks to promote innovation and accelerate open-source adoption worldwide by letting enterprise open-source companies leverage Novell's global sales and marketing channels.
"Novell has made a lot of changes in its sales force. It has also turned over a large number of its general managers and increased the number of certified applications on SuSE Linux by orders of magnitude. It takes time to see results," Haff said.
The Novell Roadmap
Novell announced long-term plans for Novell Open Enterprise Server at the BrainShare conference, including the next two versions of the product. Novell also announced it will support NetWare as long as customers want to run it.
Going forward, Novell plans to hold an annual partner summit for its 400-plus participants from the global ecosystem of Novell's software, hardware, channel and training partners.
"Novell certainly does seem to be at least aware of what some of the problems are, which is a good first step in solving them. There also does seem to be quite a bit more consistency in branding and market messaging as well," Haff said. "The proof is going to be in the results."