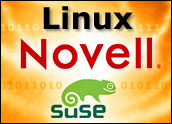 Fresh off its deal with PC manufacturer Lenovo for Suse Linux-based ThinkPad mobile workstations, Novell trumpeted deals with four, smaller "whitebox" PC makers to pre-install Suse Linux on their desktop and notebook computers.
The Linux vendor has inked agreements with European vendors ETegro Technologies, Maxdata and Transtec, and U.S.-based R-Cubed, to sell PCs loaded with Suse Linux Enterprise Desktop 10 around the world.
Broadening Appeal
Novell said it was responding to growing demand for desktop alternatives, with Vice President and General Manager of Open Platform Solutions Roger Levy calling the whitebox PC builders "a crucial part of the growing spread of Linux on the desktop."
However, it will take more, larger vendors and additional support to take desktop Linux beyond its niche holds in the market, according to Current Analysis analyst Toni Dubois.
"Linux is still a very small player on the desktop," she told LinuxInsider. "It still hasn't been able to appeal to that broad of an audience."
Bigger Pre-Load Pool
Novell said it will include 3D desktop graphics, integrated search and its edition of OpenOffice.org 2.0 at significantly lower cost than a proprietary alternative in the pre-load deals. The firm also signaled possible deals with more PC manufacturers.
"We're very pleased with our new partners, and we're working with more than a dozen others to further expand the availability of Suse Linux Enterprise Desktop 10 and bring the benefits of desktop Linux to the widest possible market," Levy said.
Linux has made progress as a desktop alternative in the last couple of years, and while its open architecture is attractive to enterprises, it still remains a niche play, according to DuBois.
Deals with manufacturers for pre-loading Linux will help widen the audience for the open source operating system, but the big players are needed for significant inroads, she said.
"Aligning with the bigger companies — Hewlett-Packard, Dell, Lenovo, IBM — one of the bigger wins is something that will progress them further than these smaller players," she said.
Still, those smaller manufacturers benefit from the demand for an alternative desktop environment that is occurring now, Dubois added.
Making Sense
Linux desktops may make sense for enterprises in some settings, such as specific departments or standalone deployments, but there are other factors that are more critical than pre-loading the operating system, Gartner Vice President George Weiss told LinuxInsider, such as applications, integration, authentication and security.
"Becoming an organic part of the whole [is more important], at least in larger enterprises," he said.
Resellers are an important piece of desktop Linux growth, he said, and demand for Linux as a desktop alternative may also hinge on enterprise reception to Microsoft's forthcoming Vista platform.
In addition to its vendor partnerships announced this week, Novell made available its Suse Linux Enterprise Real Time platform, which incorporates Concurrent support for real-time applications. Calling it a compelling, Linux-based solution for time-critical IT environments, Novell boasted support from partners Advanced Micro Devices, database vendor Ingres, and Wombat, a financial software vendor.