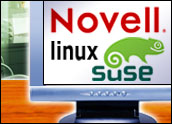 Taking aim at rival Microsoft, its Windows platform and its Office suite, Novell on Thursday unveiled SuSE Linux Enterprise Desktop 10 at CeBIT 2006 in Hanover, Germany.
The new Linux desktop software suite features enhanced power management, integrated desktop search, graphical interfaces and numerous application improvements based on open source innovation, Novell said.
"With Novell Linux Desktop 9, Novell delivered an outstanding solution for transactional and fixed-function desktops," said Jeff Jaffe, executive vice president and chief technology officer for Novell. "With its successor, SuSE Linux Enterprise Desktop, we are now positioned to serve the sweet spot ofthe market, the general office worker."
The Linux-based desktop environment is already generating interest from businesses of all sizes, according to Jaffe, who said it represents a tremendous new opportunity for Novell.
Targeting Microsoft
While Red Hat has focused most of its efforts on Linux server distributions, Novell has been more aggressively targeting Windows on the desktop with its Workstation and SuSE desktop products.
SuSE Linux Enterprise Desktop 10 extends and broadens that focus by pursuing general purpose business desktop users rather than transactional users, the primary target of earlier versions.
"The key to attracting business users is the integration of OpenOffice 2.0," Tony Iams, a senior analyst with Ideas International, told LinuxInsider. "We are now able to do more general purpose productivityapplications on a Linux desktop."
Closing Compatibility Gaps
SuSE Linux Enterprise Desktop is the first fully supported enterprise desktop system to deliver the open source office suite OpenOffice.org 2.0, which includes a spreadsheet program, business presentations tool and word processor.
Novell's edition of OpenOffice.org will support many Visual Basic macros, closing one of the chief compatibility gaps between OpenOffice.org and Microsoft Office. OpenOffice.org 2.0 can save and open documents created in Microsoft Office formats, including Excel pivot tables.
"Compatibility has always been the Achilles' heel of OpenOffice," Iams said. "It's clear that Novell has narrowed the compatibility gap. Novell is positioning the integration of OpenOffice with SuSE Linux Desktop to offer a full-function alternative to Windows and Office."
Building Momentum
Although the momentum behind Linux continues to be strong, general business users have not really been a part of the story until today, according to Gary Barnett, IT research director, Ovum.
"With today's introduction of SuSE Linux Enterprise Desktop, Novell is keeping a promise it made last year to invest in delivering a desktop that is designed for the business user rather than for experienced Linux users," Barnett said. "Novell deserves credit for addressing the issue of usability head on, by delivering a desktop that really can meet the needs of the basic knowledge worker."
Not Scared of Microsoft
With this release, Novell is demonstrating that it is not afraid to go head-to-head with Microsoft on the enterprise desktop front, according to Ideas International's Iams.
"Novell is trying to show that you are going to save money. If you add up the cost of Windows and Microsoft Office, you will be able to get similar functionality for a much lower price," he said. "Now we'll have to see if the software gets traction."