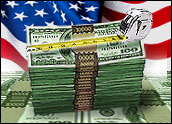 Part 1 of this two-part series takes a look at some of the reasons government agencies are turning to open source to get more IT bang for their dwindling bucks.
The marketing stars appear to be coming into alignment for the vendors of open source offerings who are targeting the U.S. government. Significant barriers to adopting open source technology at the federal level are breaking down, and tight budgets provide an opportunity for vendors to emphasize the cost savings features of open technologies. Despite these advantages, vendors will still have to work harder to develop marketing channels to capitalize on the potential for federal sales.
For all IT providers, the federal market is a continuing opportunity.
"The United States government is the world's largest purchaser of information technology, with an annual IT budget over (US)$80 billion," Federal CIO Vivek Kundra told the World Economic Forum in early November.
Just fractions of that amount are attractive to vendors, for whatever IT specialty they offer — including open source solutions.
"We don't really focus on an overall market figure, since open source can't be described as a monolithic entity. We prefer to emphasize the value it creates in a specific application," Gunnar Hellekson, chief technology strategist at Red Hat, told LinuxInsider.
A Sprightly Growth Rate
"It's hard to give exact numbers around the U.S. public sector because federal agencies have just begun to view open source technology as 'tried and true,' and as a result, the U.S. is still in the early stages of widespread adoption. Nevertheless, we expect increasing levels of customer traction in the U.S. federal sector," Brian Gentile, CEO of Jaspersoft, told LinuxInsider.
However, an analysis of federal IT spending trends by marketing consultant INPUT forecast that federal spending on open source solutions would grow, on average, by 8 percent per year, and move from $290 million in 2009 to $430 million by 2014.
Open source, of course, is not unknown to federal agencies.
"While we've tried to promote the concept of open source adoption, there are countless people within the government who have recognized the many benefits of the technology and have helped in its implementation," John Weathersby, executive director of the Open Source Software Institute, told LinuxInsider. In addition, there are many industry representatives who have made open source part of their IT offering and that, too, has played a huge role in the government's various decisions to adopt open technologies."
Several developments over the past year have helped to raise the visibility of open source. In February 2009 the Defense Information Systems Agency (DISA) launched forge.mil, a platform designed to increase the awareness and accessibility of open source solutions.
Another key event was the issuance of a U.S. Defense Department procurement bulletin in October 2009.
"To effectively achieve its missions, the department must develop and update its software capabilities faster than ever to anticipate new threats and respond to continuously changing requirements. The use of open source software can provide advantages in this regard," said David Wennergren, the acting chief information officer for the department.
The bulletin helped dispel concerns about the security and reliability of open source, clarified legal matters about protections related to software code, and noted the possible cost benefits of the technology.
At the Government Open Source Conference in October, Open Source for America, an advocacy group, presented its inaugural Government Deployment award to the Obama Administration for the migration of the White House website from a proprietary configuration to an open source platform using Drupal technology.
Given Open Source for America's mission to encourage federal agency use of the technology, making the award to the most visible entity in the federal government came as no surprise — but it also underscored the marketing challenge that still faces open source providers.
Open Source for America was launched in July 2009, mainly to spur adoption by coordinating efforts to encourage federal implementation of open source technologies.
"We needed a focal point to provide information as agencies became more aware of the benefits of open source," said Red Hat's Hellekson, who currently serves as co-chair of the group.
Vendors clearly feel that the pace of open source adoption at the federal level could use a boost, and improving the rate of adoption remains a challenge.
"The public sector has traditionally been slow to adopt emerging technologies due to the vast amount of additional procedures and protocols with which federal agencies have to deal," JasperSoft's Gentile noted. "However, the federal space has been adopting open source technology at an increasingly aggressive rate, and a lot of that can be attributed to the education efforts made in recent years to deter federal organizations from the fear, uncertainty and doubt that has long been propagated by proprietary giants encouraging them to renew annual subscriptions."
Marketing in the Trenches
"The Defense Department memo really put some of the anxieties of using open source behind us, and now it's a question of working on implementation," Red Hat's Hellekson said.
In short, the vendor community should move past the advocacy stage and get in the trenches on developing suitable procurement mechanisms to facilitate open source adoption.
"Governments remain eager to embrace open source software, and are no doubt already doing so in many cases, but there is still a great demand for more commercial backing," said Jay Lyman, an industry analyst with 451 Group, in a blog report on the GOSCON conference.
"Potential government customers require the same backing as the private sector — such as support and training, service level assurances and code quality. But vendors often still don't match up with government procurement procedures or certified vendor lists," Lyman told LinuxInsider.
Vendors need to put their warranties into the specific procurement vehicles that government agencies require.
"Attaining government certification or listing is the perfect role for a commercial organization backing an open source project, which is less likely to attain such a qualification from its community of developers who are focused on the code," Lyman said.
Government agencies are also concerned about becoming dependent on a single open source vendor.
"When it comes to vendor lock-in, government open source users may find some assurance with software that is backed by a community of not only developers, but also fellow users. This means despite what the vendor does or what happens with mergers and acquisitions, the software will be available for the users and the community at large," Lyman added.
One major marketing channel is the General Services Administration, which is in the process of setting up an open source access platform modeled after the Defense Department's forge.mil portal. The GSA mechanism will be dubbed "forge.gov."
"We are trying to leverage what DISA has done. Open source is very important and a vital technology and is a viable option," Sanjeev Bhagowalia, deputy associate administrator for innovative technologies at GSA, told LinuxInsider.
While GSA has launched a major effort to support cloud technologies, the agency hasn't yet done the same for open source.
"We are supportive of the technology, and we are a service organization, so if the agencies ask for help we are obligated to provide it," Bhagowalia said.
The forge.gov effort appears to be the framework for GSA's support.
GSA and the open source community currently are discussing the scope of the forge.gov platform, including procurement protocols, standards, and security issues.
"We are trying to figure out what GSA should do," said Red Hat's Hellekson, "and what the open source community, including vendors, should do."