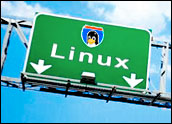 The National Geospatial-Intelligence Agency (NGA) is compiling information on the capabilities of vendors that can assist it with its Linux-based information system. NGA has asked vendors to provide a description of their capabilities by Feb. 11. In a quick-response "Sources Sought" notice issued Jan. 28, NGA said it was "researching the market availability of firms that can potentially provide services and products that could be seamlessly incorporated" into the agency's baseline program.
"The information should describe how and why NGA would utilize your Linux solution — not only responding to the ability to meet the criteria listed, but detailed capability to ensure it is a viable solution for NGA," it said.
The notice does not guarantee that NGA will soon issue a procurement order.
"This is not a pioneering or expanded use of the Linux requirement. NGA continuously seeks new and updated IT solutions to better support its mission partners," Julia Collins, public affairs officer for NGA, told LinuxInsider. "NGA also must ensure that these solutions meet unique requirements for operating in a classified environment."
As part of its capabilities strategy, NGA wants to ensure that it can acquire systems "within a competitive marketplace," Collins said.
"The Linux OS is used for a wide variety of programs within the NGA. The agency's mission is to provide geospatial-intelligence data and products in support of national security. Our products are broad-ranging, including support for military operations and senior policy makers, as well as humanitarian efforts," Collins explained. One humanitarian application is providing geo-intelligence during large scale hurricane and flooding events.
NGA is a Defense Department combat support agency and a member of the national intelligence community. NGA was formerly known as the "National Imagery and Mapping Agency."
Seeking Solid Information
NGA wants nuts-and-bolts descriptions of vendor capabilities. The agency requested that vendors refrain from including marketing materials or Internet links in their submissions. NGA specified that vendors must demonstrate several Linux technical and performance requirements, including an open source Linux operating system that is fully compatible with NGA's existing solution (Red Hat Linux); the ability to scale deployments without increasing administrative overhead; the ability to add servers without buying additional support tools necessary to provide updates and patches; and compatibility with the existing virtualization environment (VMware).
Vendors must also demonstrate complete binary capability, and they must identify which specific vendor OS add-ons are incorporated into the Linux package. NGA requires that vendors have the ability to manage the complete life cycle of a Linux infrastructure — specifically, the current NGA Linux infrastructure — to include the ability to deploy, configure, manage, update and then re-deploy Linux systems, all from a single Graphical User Interface (GUI) console.
All vendors must demonstrate an ability to keep track of systems and applications from within the network console by viewing reports that let system administrators take action before performance becomes an issue.
Vendors must have Top Secret or SCI-cleared support personnel and facilities in the event NGA has to provide classified information from a machine to the vendor for analysis. This may be accomplished either by sending the data to an approved classified system or bringing a cleared contractor to an NGA facility.
NGA listed two contracting officers for the email submission of capability statements: Donna J. Warren at [email protected], (314) 676-0196, or Douglas H. Verseman at [email protected], (314) 676-0195.
The NGA notice did not mention the value of any contracts that may eventually result from the gathering of information about vendors.
However, the agency used a similar mechanism for its broadbased Total Application Services for Enterprise Requirements (TASER) contract last year. The agency released a request for information to the commercial community before selecting 16 vendors to participate in the multiple source contract, which has a potential five-year total value of US$1 billion.
The selected vendors included engineering and information technology firms. One firm, BAE Systems, for example, completed a task order contract last November that involved migrating a server-based mission application into a virtualized data center environment.
Defense Agencies Lead in Open Source
NGA's requirement for continuing to bolster its information technology resources, especially in the open source space, is par for the course for a security-related agency, according to one major vendor.
"All we can say about the sources sought initiative is that we are well aware of it," Gunnar Hellekson, chief technology strategist for Red Hat, told LinuxInsider. "But in the open source arena, the defense and intelligence agencies have been impressive as first adopters."
In a just released "report card" on the use of open source technology at the federal level, the Defense Department received the highest rating — 82 percent — from Open Source for America (OFSA). The rating system assigned a percentage grade to federal agency use of open source technologies, open formats, and technology tools for citizen engagement.
"The department is demonstrably ahead of the curve in recognizing the benefits and use of open technologies," OFSA said. DoD not only has issued procurement policies for open technologies, but also has prepared guidance for facilitating participation by government employees in open source projects, the report notes.
"The Department is looking to adopt transparent policies and procedures in line with President Obama's Open Government Directive," said Daniel Risacher, associate director of enterprise services and integration at DoD.
"I think it's important to note that both the Defense Department and the Energy Department are good examples of practical, reasonable approaches and directives on open source use that do not say 'no' or 'never' to open source, but at the same time do not say 'always' to open source software, which is actually impractical and unreasonable," JayLyman, senior industry analyst at the 451 Group, told LinuxInsider.
NGA is not only looking to improve its open source systems. The agency has an ambitious information technology agenda.
"This notice to vendors is also in line with NGA Director Letitia Long's vision to enhance our analytic capabilities and provide our customers with online, on-demand access to geo-information resources," Collins noted.
Long has advocated an aggressive effort to upgrade NGA's capabilities, whether it involves providing information to military forces in the field or to rescuers dealing with a civilian emergency.
"We need to empower our users to serve themselves online like we all do in our private lives when we use e-commerce sites," she said at the GEOINT conference in New Orleans last November. "We need to give them applications that will allow them to work with our data, our information and our knowledge just like mobile phone users are empowered with their apps."
At the conference, Long stressed the NGA's goal of partnering with a broad range of government, academic and commercial organizations to fulfill the agency's mission.