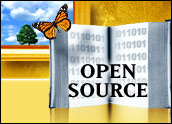 There's no denying the growing impact of open source software in today's business landscape, but for those who want additional proof of the open approach's viability, there's OpenStax College. Since 2012, the initiative has been producing peer-reviewed open source textbooks under a Creative Commons license.
This year, the organization expects to save some 40,000 students at 300 educational institutions about US$3.7 million on textbooks, it announced on Tuesday. Since June 2012, OpenStax College's free books have been accessed online by more than 1.7 million people and downloaded more than 170,000 times.
"There's over $1 trillion in student debt here, and textbooks cost $200 to $300 a pop," David Harris, editor-in-chief of OpenStax College, told LinuxInsider. "There's a great need to help students."
The Open Road
OpenStax College now offers titles for five of the introductory college courses that attract the most students: physics, sociology, anatomy and biology for both majors and nonmajors.
The initiative grew out of Connexions, an effort launched back in 1999 as a content-sharing site for educational materials. Connexions was founded by OpenStax College's founding director, Richard Baraniuk, who is a professor of engineering at Rice University.
OpenStax College follows traditional processes when it comes to sourcing content. It has authors, reviewers and traditional content developers, and it negotiates payments for them in work-for-hire agreements.
OpenStax College accepts content in any form and converts it to digital output in various formats, including PDF. It uses Creative Commons licensing so instructors can redistribute materials to students for free.
Students, meanwhile, can access the site and download books at no charge without having to log in. Access to downloaded texts does not expire.
'The Rest Work Like Slaves'
"With e-books, students lose access after a certain amount of time," Harris pointed out. "CourseSmart, which claims to be the largest purveyor of e-textbooks, rents a college physics book for 180 days and sells one for 180 days at $120. They charge $244 for unlimited access."
A CourseSmart spokesperson was not immediately available to comment for this story.
Best-selling authors will do "a lot better" in the traditional publishing model, but "that's only 5 percent of authors," contends Harris, who worked at a major publisher for many years. "The rest work like slaves, and the publishers only push the bestselling books."
OpenStax College's e-textbooks are free except for iBook versions, for which it charges $5 apiece because "we have to take iBook versions offline, produce them in iBook Author and maintain them offline, and we have to do a lot of enhancements to them," Harris explained. "We're a nonprofit and charge $5 to recoup the costs."
The Competition
Apple and Google are battling it out for a share of the e-textbook market, but "I doubt [they] are very concerned," Rob Enderle, principal analyst at the Enderle Group, commented.
Other sites such as Bookboon and openculture.com offer open e-textbooks at no charge.
Traditional publishers, meanwhile, are too busy trying to cope with their existing problems to focus on OpenStax, Harris says, pointing to an agreement with Wiley under which the latter will redistribute material from OpenStax College.
"If you're locked into the past, you might see us as a threat," Harris said. "If you're looking at the future, you might see us as an opportunity."
However, OpenStax College would do well to keep an eye on traditional publishers, who "will likely move to shut down this effort, and will look at copyright infringement as a way to do it," Enderle told LinuxInsider.
Indeed: Three major academic publishers — Pearson, Cengage Learning and MacMillan Higher Education — filed suit against open education publisher Boundless in 2012 on those very grounds. Two of Boundless' three cofounders have since left, and the company was last reported in July to be discussing a legal settlement.