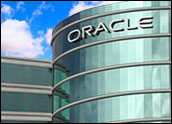 Amid an enormous amount of buzz, software giant Oracle laid out its plans for Linux at its OpenWorld conference in San Francisco this week, indicating that it will use Red Hat Linux as the foundation for an Oracle-branded "Unbreakable Linux."
During his keynote Wednesday, Oracle chief Larry Ellison announced a Red Hat path that will promote the Linux distribution as anenterprise leader. However, Oracle will also compete with it, offering its own version of enterprise Linux, including free binaries and support starting at US$99 annually per machine.
Oracle plans to take Red Hat Linux, remove the trademarks, and add Linux bug fixes, offering the resulting version under the banner of "Unbreakable Linux," which it describes as a support program available through a Red Hat-like network.
"We believe that better support and lower support prices will speed the adoption of Linux, and we are working closely with our partners to make that happen," Ellison said, referring to Dell, Hewlett-Packard, Intel and others.
Oracle Predictions
Even before Oracle's OpenWorld conference kicked off Sunday, there was plenty of speculation on what Linux plans the database and enterprise software mammoth might have up its sleeve.
Oracle has long supported Linux with its database, middleware and other applications, but the company — not a member of the Linux organization Open Source Development Labs (OSDL) — had not explicitly revealed its strategy, which prompted speculation about partnerships or porting of a number of Linux distributions, including Red Hat and Ubuntu.
Before the announcement, Gartner Vice President George Weiss said the most likely development would be for Oracle to either port or provide support and infrastructure for a Linux flavor, such as Red Hat, Red Hat derivative CentOS, or Debian.
Oracle confirmed its plans centered on Red Hat Linux and said it would support its Unbreakable Linux the same as it does other operating systems, providing bug fixes not only for current and future versions, but also for back releases. Oracle pointed out that Red Hat provides fixes only for the latest version of its operating system.
Single Point
Oracle's interest in further integration of its solutions with Linux is a response to the demand for a single point of contact for software integration and support, according to Weiss. Customers would rather not have to bring in another software vendor, such as Red Hat, plus a hardware vendor such as Dell, he said.
Stressing compliance with application programming interfaces (APIs) and standards such as Linux Standard Base, Weiss added that application vendors could be scared off by having to support "yet another Linux," which, from his standpoint, makes the choice of Red Hat as a foundation a logical one.
Ubuntu Not Undone
Prior to Ellison's keynote, one of the most popular scenarios for Oracle and Linux involved upstart Ubuntu, which targets the enterprise with its popular, user-friendly version of Linux. Even though the recent announcement centers on Red Hat Linux, the pieces are still in place for a significant Oracle-Ubuntu partnership, 451 Group Senior Analyst Nick Selby told LinuxInsider.
"Oracle might see it as a reach into greenfields it couldn't get before," said Selby, whoblogged about his conversation with Canonical CEO Mark Shuttleworth this week. "If Oracle can sell more licenses and Ubuntu can get more into enterprises, both would be happy. Ubuntu can tell a fairly good story to enterprises."
Questions Remain
Following the announcement of Oracle's Red Hat-based Unbreakable Linux, Shuttleworth questioned whether Oracle would be successful in supporting another organization's code base, Selby reported on his blog.
Others debated whether the move might hurt or hinder any future Oracle effort to acquire Red Hat, which was one of the possibilities discussed leading up to this week.
For its part, Red Hat has downplayed the impact of Oracle's Linux play, indicating an Oracle Linux will be new, will not be certified or supported the way Red Hat Enterprise Linux is, and may not necessarily be in demand.
"It is not clear that anyone really wants this third distribution in the enterprise market," Red Hat JBoss Division Manager Marc Fleury wrote in his blog prior to the Oracle Linux announcement.