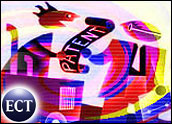 Two companies have hit Linux vendors Red Hat and Novell with a patent infringement lawsuit alleging their products use technology first patented more than a decade ago.
IP Innovation and Technology Licensing filed the suit on Tuesday in U.S. District Court in Texas, a popular jurisdiction for patent cases. The suit seeks unspecified damages, asks for a trial by jury on all of the counts. It also seeks enhanced damages due to the willful nature of the infringement and an injunction to stop it.
The complaint accuses each company of infringing three patents, which were apparently first issued to Xerox in the mid-1980s.
Neither Red Hat nor Novell would comment on the complaint. The lawsuit claims that a host of the two companies' products — including the Red Hat Linux system, the Novell Suse Linux Enterprise Desktop and the Novell Suse Linux Enterprise Server — breach patents held by others, the lawsuit claims.
The complaint comes just days after the major Linux vendors engaged in a war of words with Microsoft CEO Steve Ballmer, who said that all Linux installations are infringing on known patents and suggested that as a result, all customers of the Linux vendors could be exposed toinfringement actions.
A Microsoft Connection
IP Innovation is a subsidiary of Acacia Research, which owns a sprawling portfolio of intellectual property. Earlier this month, Acacia hired former Microsoft General Manager for Intellectual Property Brad Brunell as a senior vice president. Brunell spent 16 years at Microsoft and was responsible for its licensing programs.
There is no direct relationship between Microsoft and California-based IP Innovation, and the patents the firm says were violated are not among those Microsoft has claimed in the past that some Linux software infringes upon.
Last week, Ballmer told a crowd at a UK technology conference that it was likely only a matter of time before patent prosecution firms that have targeted proprietary software firms began targeting open source vendors as well.
"I expect they would like to go to the open source world as well," he said. Microsoft believes end users of some Linux — he mentioned Red Hat by name — could be required to compensate Microsoft for using its intellectual property without a license if the software giant pursued such a path, Ballmer added.
Microsoft has signed an agreement with Novell that essentially indemnifies its customers from patent claims made by Microsoft.
Patent Pressures
The Linux industry has seen some relief from patent pressures when The SCO Group, which claims its Unix code forms the basis for Linux, filed for bankruptcy. Still, some end users remain on edge about being caught up in the intellectual property crossfire, said Gartner analyst George Weiss.
Although the value of indemnification agreements is questionable, Weiss told LinuxInsider that Microsoft's agreement to work with and invest in Novell provides customers assurances they won't be the target of suits. On the other hand, that agreement gives Microsoft one fewer Linux firm to target and may ratchet up the heat on Red Hat and its users.
"The concern about patent litigation continues to cause a lot of uncertainty in the Linux and open source communities," Weiss said. "It's still something Linux customers need to be aware of."
Familiar Foes
The lawsuit claims that both desktop and server versions of Linux infringe on a trio of patents that together "describe a user interface with multiple workspaces for sharing display system objects."
The patents, known in shorthand as patents 412, 183 and 521, were issued in 1991, 1995 and 1996, respectively, the firms say. The suit does not say who the patents were first granted to or how the plaintiffs in the case came to own them.
The two firms asserted the same patent against Apple earlier this year,said patent attorney Lawrence B. Ebert. The patent appears to have been first granted to Xerox in 1991 based on an application filed in 1987, he noted.
The technology could be one of many examples of technology developed at Xerox' famous Palo Alto Research Center (PARC) that Xerox didn't directly benefit from, Ebert told LinuxInsider.
Other patent suits the plaintiffs have teamed up on include one against printer market Lexmark in 2002 and an action against Dell in 2003.